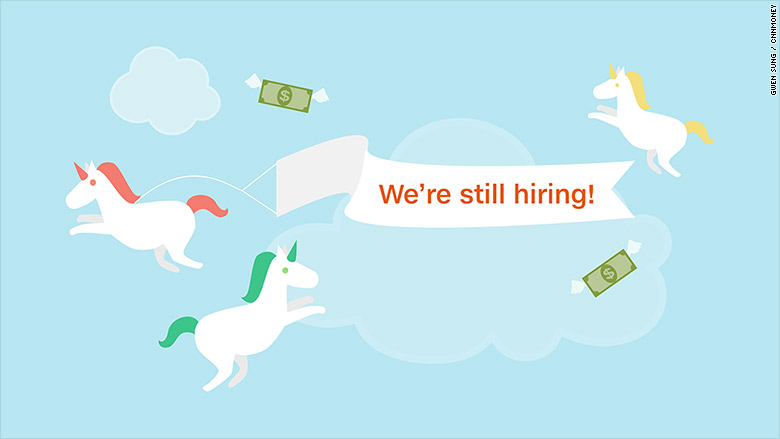 Despite fears about a slowdown in Silicon Valley, tech's unicorns are still hiring.
In the past 30 days, Uber has posted 158 jobs in the Bay Area (and that doesn't include drivers). Dropbox has posted 113 jobs. Even Zenefits, which laid off 250 employees in February after its CEO and founder Parker Conrad abruptly quit, has posted 9 jobs.
That's according to a new report from sales intelligence company DataFox. The report looked at job postings at the 100 top privately-held companies in Silicon Valley. Many of the companies are "unicorns," the term for startups valued at $1 billion or more. It culled the job posting data from careers site Indeed.com over the past 30 days.
In total, more than 1,500 jobs in Silicon Valley have been posted at the companies.
Some of these firms (Dropbox, Zenefits) are among the companies that mutual fund investors like Fidelity Investments have marked down in recent months. Those markdowns led to worries about the swelling number of unicorns -- and what would happen to these companies if and when they can't raise a next round of funding.
More than than 35 tech companies -- including Microsoft (MSFT), Yahoo (YHOO), LivingSocial and Birchbox -- have let go of workers this year.
But it's not all doom and gloom on the job front, according to DataFox growth marketing manager Anisha Sekar.
Related: 17% of startups are gunning for an IPO
"Startups with strong fundamentals are still hiring, and taking advantage of layoffs at other companies to grow their teams," she said. "That's going to make them even more resilient."
Companies aren't just looking for engineers, either. Uber, for instance, has openings for everything from account executives, to copywriters, data engineers and a behavioral scientist. It also has a host of positions open across the globe, according to its Careers page.
Dropbox, on the other hand, is hiring for recruiters, people operations, sales reps, and designers, among other jobs.
Related: San Francisco is 'separate from the real world'
"We haven't seen a slowdown among the top-tier companies," said Dan Weiner, cofounder of Revel Talent, which helps firms like Thumbtack, a unicorn company valued at $1.3 billion, recruit marketing and product talent. According to Weiner, companies are getting smarter and more specific about the types of roles they're looking to fill.
He said that in addition to engineer, hot jobs right now include growth strategy roles. It's an especially important position given the shift in investor emphasis from "growth at all costs" to growth and profitability.
Kathryn Minshew, the founder and CEO of millennial jobs site The Muse, says that she hasn't seen tech companies pull back.
The Muse reaches 5 million people every month -- and counts companies like Slack and Dropbox among its clients. Minshew says that the vast majority of tech companies they work with are still actively recruiting -- and spending advertising dollars on their site to get in front of the right candidates.
"For all of the conversation around a slowdown in tech, I have yet to see that reflected in the hiring appetite and enthusiasm of most mid- to large-size tech companies," added Minshew.