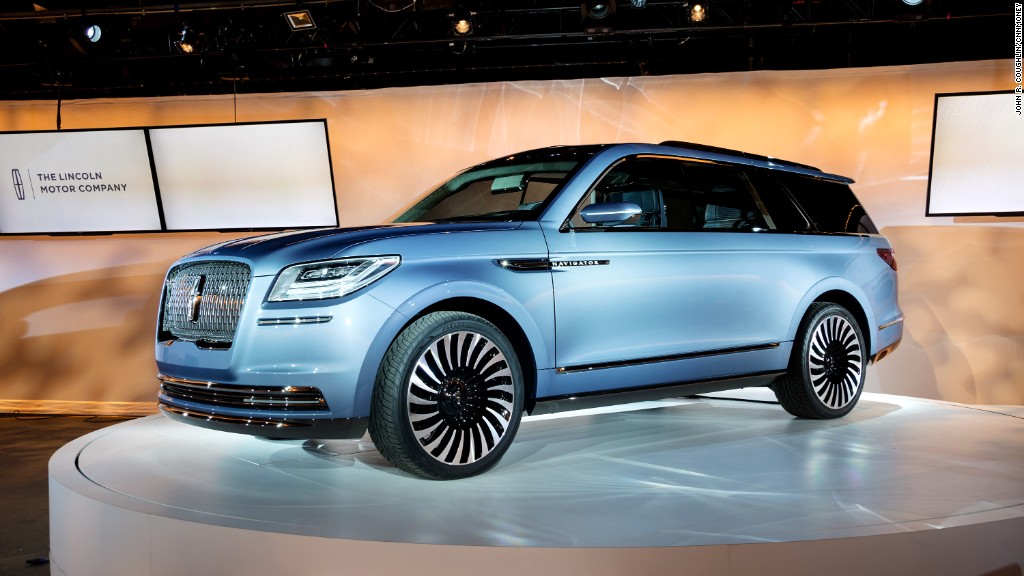 In the age of compact crossover SUVs, the hulking Lincoln Navigator might seem like a bit of a relic, but its buyers are younger than those of any other Lincoln, which is considered a good thing in the car business. So, Ford's luxury division is giving its biggest player a major makeover, adding more sophistication, as well as comfort and roominess, to try to reach more of those customers.
The Navigator concept vehicle Lincoln unveiled at the New York Auto Show represents, to a large degree what the next-generation Navigator will look like, Lincoln executives said. The new vehicle has a softer, more subtle body shape.
"The brashness is certainly not we want to be about going forward," Lincoln designer David Woodhouse said. "We want to be about seduction and allure, drawing people into the design."
In recent years, Ford Motor Co. (F) has given Lincoln more independence and resources to create vehicles and marketing approaches to better compete against foreign luxury brands.
The Navigator concept's overall look is reminiscent of the Lincoln Continental full-sized sedan unveiled at last year's New York Auto Show with its more rounded edges and soft-cornered rectangular grill.
The interior of the Navigator was designed with a nautical theme in mind, Woodhouse said.
A couple of the most notable feature of the concept will not be available in the production vehicle, though. The Navigator concept has enormous gullwing doors that each open to allow access to both the first and second rows of seats. Their purpose is really to give viewers a better look at the interior, Lincoln executives explained.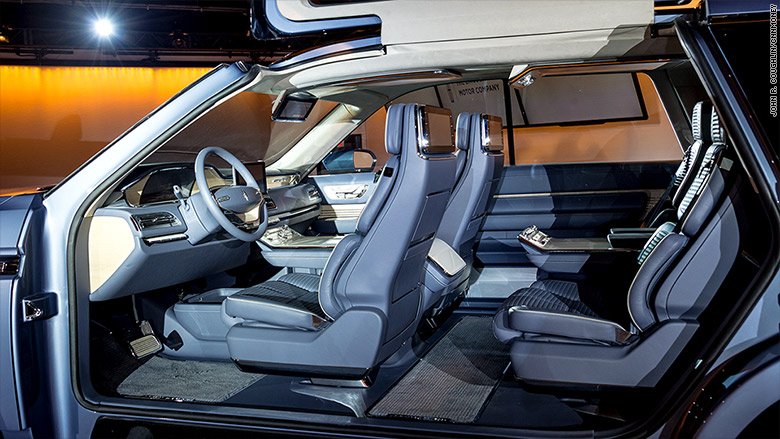 The seats are adjustable in 30 different ways, according to Lincoln, including separate adjustments for thigh support for each leg.
As the concept vehicle's doors open, a set of three wood-trimmed chrome steps fold down from the side creating a stairway into the SUV. Current Lincoln Navigators offer a power-deploying step and the new one could as well, but the elaborate three-step stairway is unlikely to be offered in the production vehicle.
It was less clear if other features of the concept vehicle would be available in the final production SUV.
In the cargo area, the Navigator concept has something like a wardrobe with cut-outs for things like a suit, shoes, a watch, sunglasses and a few tools. When the cargo door is opened the wardrobe would move outward to allow easier access.
Inside, computer screens facing each of the rear seats could allow occupants to play interactive games with one another. Rear seat passengers could also see a video image of the driver's face to make communication with the driver feel more natural. Speakers in the seatbacks could carry voices from the front row to back row occupants and vice versa.
The SUV is powered by a 3.5-liter turbocharged V6 engine capable of producing over 400 horsepower. Power isn't the point of this vehicle, though, Lincoln President Kumar Galhotra said.
"We want to provide an experience that is smooth and effortless with abundant power," he said. "Our customer segment isn't the one who is going to brag about 'I've got X-hundred horsepower and X torque.'"
Although the Lincoln Navigator, first introduced in 1997, is credited with being the first large luxury SUV, competitors now outstrip it in sales. Also, consumers have lately been turning to smaller compact SUVs. At Lincoln dealerships, both the mid-sized Lincoln MKX and compact Lincoln MKC handily outsell the Navigator. A successful redesign could help bring back customers looking for something with more space and capability.