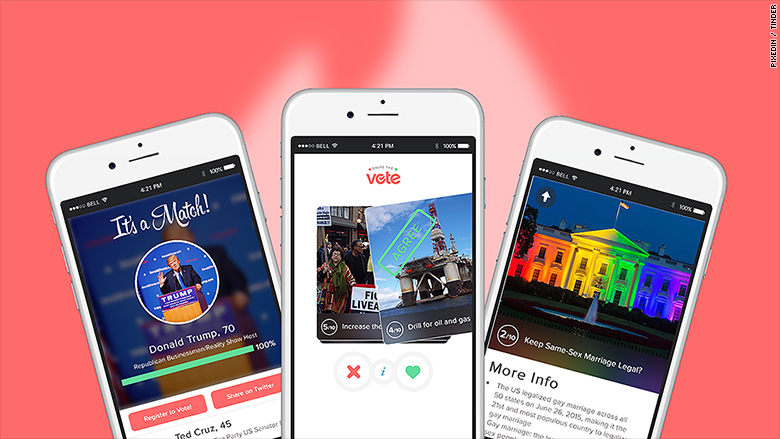 Choosing a political candidate is a lot like choosing your next boyfriend or girlfriend. You want to make sure you agree on the big issues and that you like their overall personality. You're going to be spending a lot of time together -- at least four years -- so it's not a decision to be taken lightly.
Dating app Tinder is getting into politics with a new Swipe the Vote feature that launched in the U.S. on Wednesday. With a few flicks of a finger, Tinder users who are still undecided can quickly find out which presidential candidate they should vote for.
Related: Tinder users can find love, become organ donors
The feature asks users to say whether they agree or disagree on ten current issues, like same-sex marriage, legalized marijuana and death penalty. There's a link to get more information about each issue before swiping.
For example, before deciding whether the U.S. should increase funding for education, you can read a few quick stats about current costs and see what both sides have to say.
After Tinder members input their opinions, Tinder will display their presidential candidate match. It shows four runners up and a percentage score for how much they share your views.
Related: Love returns as Tinder fixes a glitch
As in love, a Tinder politics match is only the first step to determining compatibility. Tap on a candidate to see exactly what you disagree on and read a short bio.
Tinder hopes the feature, a partnership with Rock the Vote, will lure its millennial users into making a date with a voting booth. There's a link to register to vote in the app, and registration can be completed online in most states.