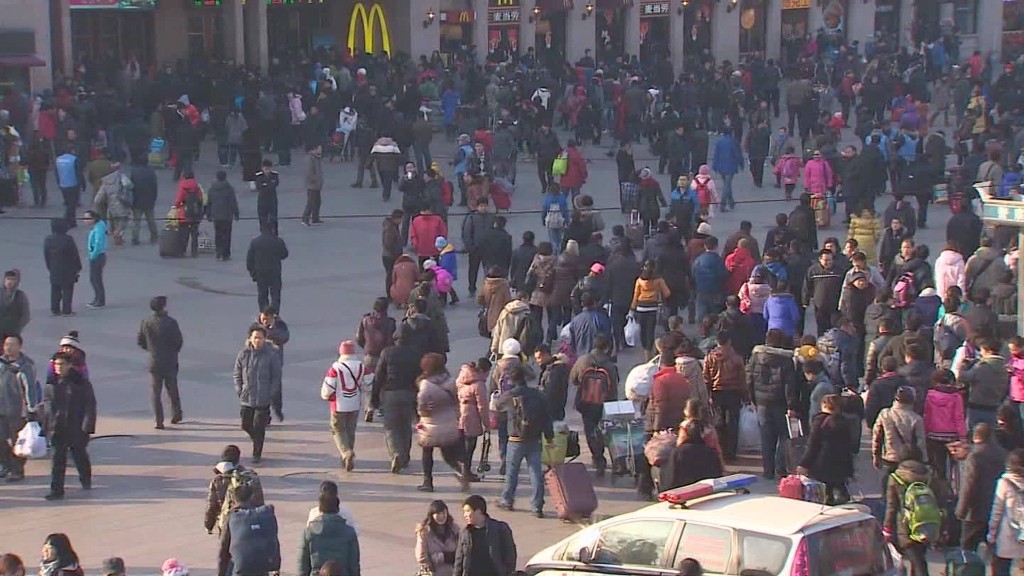 Chinese companies are shying away from adding jobs as the world's second largest economy slows down.
Already laden with debt, businesses have tried to rein in borrowing and cut back on spending. Now, they're taking on staff at a slower rate, according to a private study by China Beige Book, which surveys more than 2,200 firms across the country.
China's businesses "are becoming allergic to hiring," the study said, warning that the "troubled job market hit a new low" in the first quarter of this year.
Of the companies surveyed, 15% said they trimmed jobs in the first quarter. And while 23% reported expanding their workforces, that number is down 9 percentage points compared with the same period a year earlier.
The study's authors say they think the trend could force the Chinese government to act.
"The principal reason China has been able to defy market expectations for more aggressive stimulus was stability in the labor market, despite overall economic deceleration," they said. "Time may have run out."
Related: China plans to cut 1.8 million coal and steel jobs
The hiring outlook for the second quarter of the year also appears grim: 14% of the companies surveyed expect more layoffs, while 28% anticipate more hiring, a drop of 10 percentage points on a year earlier.
Last month, Beijing said it plans to cut 1.8 million jobs in the coal and steel industries, a move that will hit some of its big state-owned enterprises that are known for inefficiency. The cuts represent about 20% and 11% of China's coal and steel jobs, respectively, according to IHS Insight.
Getting a clear picture of China's labor market is difficult, experts say, because of gaps in official statistics. The Beige Book researchers try to fill in some of the blanks with their private study, which also looks at companies' sales, prices, profits, borrowing and spending.
China is now posting its slowest annual growth rate in 25 years, and many economists are doling out ho-hum forecasts for this year. Economic expansion is slackening as Beijing seeks to engineer a transition from growth driven by exports and big investment projects to greater reliance on consumption.
Related: China exports shrink 20%, deepening worries over slowing growth
Much of the economic data in the first few months of the year have pointed to waning growth. Factory activity has fallen to a five-year low, and February exports shrank 20% from a year earlier, according to government statistics.
Some of the slump in the early part of the year has been attributed to seasonal variations at a time when factories grind to a halt and workers return home for the biggest holiday of the year.
The New York-based China Beige Book has been conducting private quarterly surveys in China since 2012, modeling its studies after the U.S. Federal Reserve's Beige Book. The information it released this week is an preliminary look at its first quarter survey results.
The next official snapshot of the overall health of the Chinese economy comes on April 15 when the National Bureau of Statistics reports GDP growth figures for the first quarter.