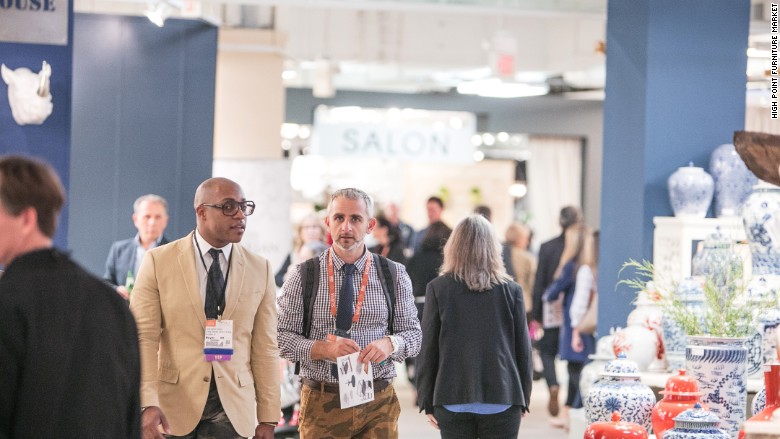 A massive furniture expo that brings billions of dollars to North Carolina's economy each year said Monday that the state's new bathroom law is threatening its business.
The statute, which was enacted last Wednesday, requires transgendered individuals to use the bathroom that coordinates with their anatomical gender at birth, rather than the gender they identify with.
Now the organizers of North Carolina's bi-annual High Point furniture market are telling lawmakers that "hundreds and perhaps thousands" of customers are choosing not to attend the trade show in April because of the law.
"As leaders and organizers of the High Point Market, we feel an obligation to inform the public and our government leaders in Raleigh of the significant economic damage that [the law] HB2 is having on the High Point Market and on the North Carolina economy," the statement said.
Related: North Carolina governor sued over transgender law
A Duke University study in 2013 dubbed the furniture expo as North Carolina's single largest economic event, drawing about 600,000 visitors and generating more than $5 billion for the state's economy each year.
The city of High Point has sometimes been called the "furniture capital of the world."
The law overturns an ordinance that the city of Charlotte enacted known as the "bathroom bill" that banned discrimination based on sexual orientation or identity.
Companies including Paypal, Bank of America and Dow Chemical have spoken out against the new law. The NBA has suggested it could pull the 2017 All-Star game, which is slated to be hosted in the Charlotte Hornet's home arena.
Also on Monday, a coalition of LGBT rights advocacy groups filed a federal lawsuit attempting to overturn the measure.
And New York Governor Andrew Cuomo issued an executive order banning non-essential travel to North Carolina by state agencies. Cuomo issued a similar travel ban to Indiana in 2015 when that state enacted a "religious liberty law" that was viewed as anti-gay. The ban was lifted a few months later when the law was amended.
Related: Georgia, N.C. and beyond: What you need to know about the clash over 'anti-gay' bills
North Carolina House Speaker Tim Moore has defended the law, saying it's about defending "privacy."
Charlotte's anti-discrimination law "would have allowed a man to go into a bathroom, locker or any changing facility, where women are -- even if he was a man. We were concerned. Obviously there is the security risk of a sexual predator, but there is the issue of privacy," Moore said.