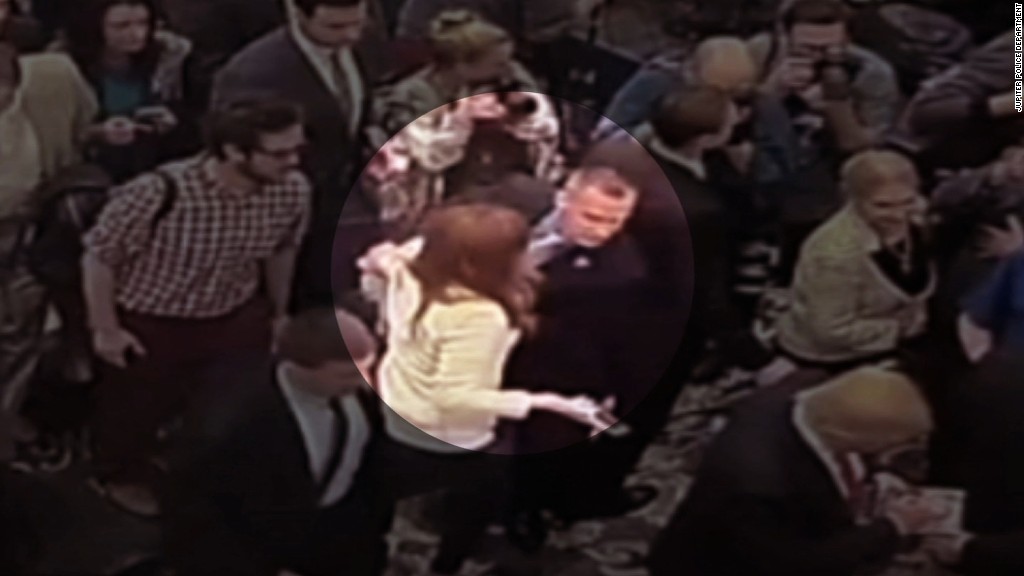 Donald Trump played fact checker at Tuesday's CNN Town Hall. He even brought notes.
The GOP frontrunner knew he would be asked about his embattled campaign manager Corey Lewandowski, who has been charged with simple battery of a reporter, and he responded by offering a point-by-point rebuttal to the accusation.
Trump's display, which worked quite well for him, served to showcase how the reality television star's undaunted self-confidence and knack for stagecraft enable him to overcome the controversies that might threaten to ruin other candidates.
When CNN's Anderson Cooper asked Trump if Lewandowski would remain with his campaign, Trump was unequivocal: "Yes he will." A newly released security video of the incident "exonerates him totally," Trump said.
Lewandowski has been charged with simple battery of former Breitbart News reporter Michelle Fields, who claims that the campaign manager assaulted her after a press conference in Jupiter, Florida, earlier this month.
When Fields first made the accusation, Trump accused her of making it up. Lewandowski claimed that he'd never even met Fields, let alone touched her. The newly released video shows that Lewandowski did grab Fields arm -- which alone could qualify as simple batter in the State of Florida -- though she was not pulled to the ground.
But at Tuesday's Town Hall, it wasn't Trump who was forced to account for his false claim that Fields made up the incident. Rather, it was Fields who got fact-checked by Trump.
"When she found out that there was a security camera, and that they had her on tape, all of a sudden her story changed," Trump said of Fields claims.
When Cooper countered that Fields had claimed her story had remained exactly the same, Trump responded by pulling out notes with Fields' original tweet.
"Oh really? Can I read this to you then?" Trump said to applause. "Here's what she said... That's an exact quote from her prior to seeing the cameras, and now she says, 'Oh I better change my story, I guess.'"
Trump went on to challenge Fields' claims point-by-point: "'I was jolted backwards.' Well, she wasn't. She's standing there," Trump said.
"'Someone had grabbed me tightly by the arm and yanked me down.' She wasn't yanked down, she didn't have any expression... there's no emotion," he continued.
"'I almost fell to the ground.' She didn't almost fall to the ground... And by the way, she was grabbing me. Am I supposed to press charges against her?"
"'Nonetheless I was shaken. Campaign managers aren't supposed to forcefully throw reporters to the ground.' She didn't go to the ground, she didn't even have an expression on her face," Trump concluded.
Trump's fact-checking proved to be a clever tactic: Even Cooper was forced to acknowledge that Fields had not been dragged to the ground, and relatively little time was given to the false statements Trump and Lewandowski had made about Fields.
Trump wrapped up that effort by seeking to cast Lewandowski as the would-be victim, were Trump forced to fire him.
"It would be so easy for me to terminate this man, ruin his life, ruin his family ... and say you are fired. I have fired many people, especially on 'The Apprentice,'" Trump told Cooper. "The problem is everybody dumps people when there is a sign of political incorrectness."