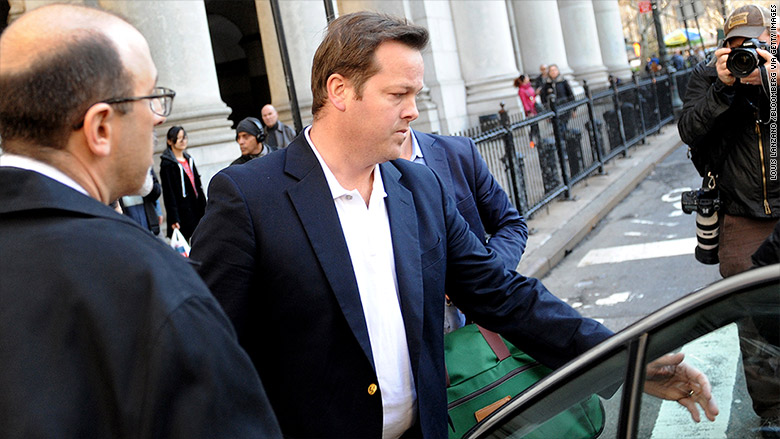 Andrew Caspersen fit in well with Wall Street's elite.
That is until his arrest over the weekend on charges that he bilked a charitable foundation out of $25 million and pocketed the money.
Caspersen comes from money. His late father, Finn Caspersen, was a CEO of Beneficial Corporation, which was one of the nation's largest consumer finance firms. He was known for his donations, both charitable and to politicians. Former New Jersey Gov. Thomas Kean gave the eulogy at his father's funeral in 2009.
Andrew Caspersen, 39, went to Groton prep school, where he was a captain of the football team, and went on to get degrees from Princeton and Harvard Law School before heading to Wall Street.
Three years ago he become a partner in the Park Hill Group, a boutique private equity firm. Blackstone Group (BX), which then owned the firm, trumpeted his hiring in a press release, speaking about his ability to advise "older vintage private equity funds" on how to increase their liquidity and investment options.
Related: Race car driver arrested in alleged $2 billion payday lending empire
But according to charges unsealed in Manhattan Monday by U.S. Attorney Preet Bharara, Caspersen started a scheme to defraud those who trusted him last November.
He convinced a charitable foundation associated with a multinational hedge fund based in New York to invest $25 million in a new fund he said was starting. The charges allege that he created shell corporations, false email addresses and Web sites to make the fund seem legitimate.
He promised that he had already attracted other investors to the fund and invested his own money as well. But rather than invest the money as promised, the charges say he used it to engage in series of largely unprofitable trades, and lost most of the money.
Authorities have not identified the foundation or the hedge fund it's associated with.
In March, when he sought $50 million from another investor and additional $20 million from the original foundation, the head of that foundation became suspicious. He notified Park Hill's current owner, PJT Partners (PJT), which alerted authorities, according to the firm. Shares of PJT tumbled 11% in trading Monday on news of the charges.
Caspersen was released on $5 million bond backed by a New York apartment and property in Bronxville. His attorney did not respond to a request for comment.