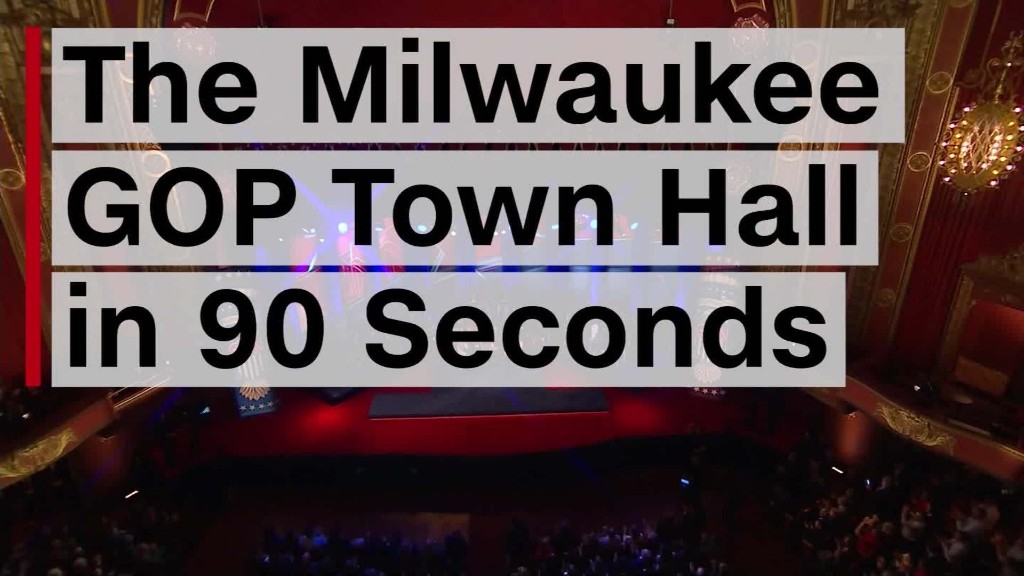 CNN's town hall with Ted Cruz, Donald Trump and John Kasich averaged 3.26 million viewers on Tuesday night, setting a new high bar for cable news town halls.
CNN said the three-hour event was "the most watched on record in both total viewers and adults 25-54."
In the 25- to 54-year-old demographic, the town hall averaged 1.06 million viewers.
Interest in the town hall was driven by Trump's presence in the 9 p.m. hour. There was a spike of more than one million viewers during Trump's hour.
Related: John Oliver enjoys a Drumpf bump
Between 8 and 9 p.m., when Cruz answered questions from Anderson Cooper and GOP voters in Wisconsin, CNN averaged 2.78 million viewers, 853,000 of whom were in the demo.
Between 9 and 10 p.m., when it was Trump's turn, CNN averaged 4.04 million viewers, with 1.33 million in the demo.
Kasich was on last, between 10 and 11 p.m. During that hour, CNN averaged 2.97 million viewers, with 999,000 in the demo.
CNN's closest competitor during the evening, Fox News, also saw a boost when Trump appeared on Sean Hannity's 10 p.m. show. Hannity's program with Trump averaged 466,000 in the demo, almost half as many as watched Kasich on CNN.
Related: Donald Trump plays fact checker at CNN's GOP town hall
Town hall events have been more prominent this season, mainly due to the hustle of CNN and other cable news channels.
MSNBC has single-candidate town halls with Kasich and Trump on Wednesday night.
But the channels hosted a number of forums and town halls in earlier election cycles as well, none of which were as high-rated as this year's.
The prior high was CNN's Democratic town hall in Des Moines ahead of the Iowa caucuses two months ago. That event with Hillary Clinton and Bernie Sanders averaged 3.20 million viewers, 944,000 of whom were between the ages of 25 and 54. Tuesday's GOP town hall finished slightly ahead of that one.