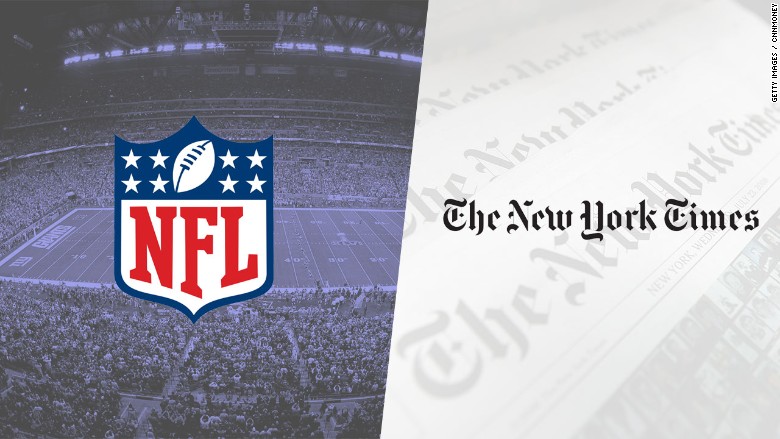 The National Football League's attempt to take on The New York Times has backfired.
Days after the NFL called on the Gray Lady to retract a story about the league's "deeply flawed" concussion research, the Times issued a rebuttal that calls attention to all the ways that the NFL's complaints serve to reinforce the Times' reporting.
The NFL's central complaint centered on the Times' decision to liken the NFL's handling of concussion risks to the tobacco industry, which, as the Times report states, "was notorious for using questionable science to play down the dangers of cigarettes."
In a letter to the NFL on Wednesday, first obtained by Politico, Times assistant general counsel Dave McCraw notes that the NFL's lengthy complaint does not identify "any factual error that we have made in our reporting on the ties between the NFL and the tobacco industry."
Related: NFL demands retraction of the New York Times' concussion story
"The crux of the letter is the NFL's complaint that the connections identified by the Article between the NFL and the tobacco industry were not 'meaningful,'" McCraw writes. "Obviously, that is an opinion, not a fact."
McCraw also claims that the NFL's complaint "confirms the overarching point" of the Times article -- that the league's concussion research was flawed and incomplete -- and says "the letter bizarrely quibbles not over whether the research was valid (we all agree that it was not) or whether the NFL defended the research for years (we all agree that it did), but whether the NFL continued to 'stand by' the research."
The real burn comes at the end of McCraw's three-page rebuttal when he notes that the NFL's own law firm represented tobacco giant Philip Morris when it was charged with violating the Racketeer Influenced and Corrupt Organizations Act.
"While your earlier letter to The Times called the tobacco industry 'perhaps most odious industry in America history,' you somehow fail to mention in either letter that it was your firm that represented Philip Morris in that RICO case," McCraw wrote.
The NFL has been pushing back on the Times' story since its publication last week. It's written two letters to the Times and even paid for advertisements on the Times website.
But as for a retraction from the Times? That is something the NFL cannot buy.