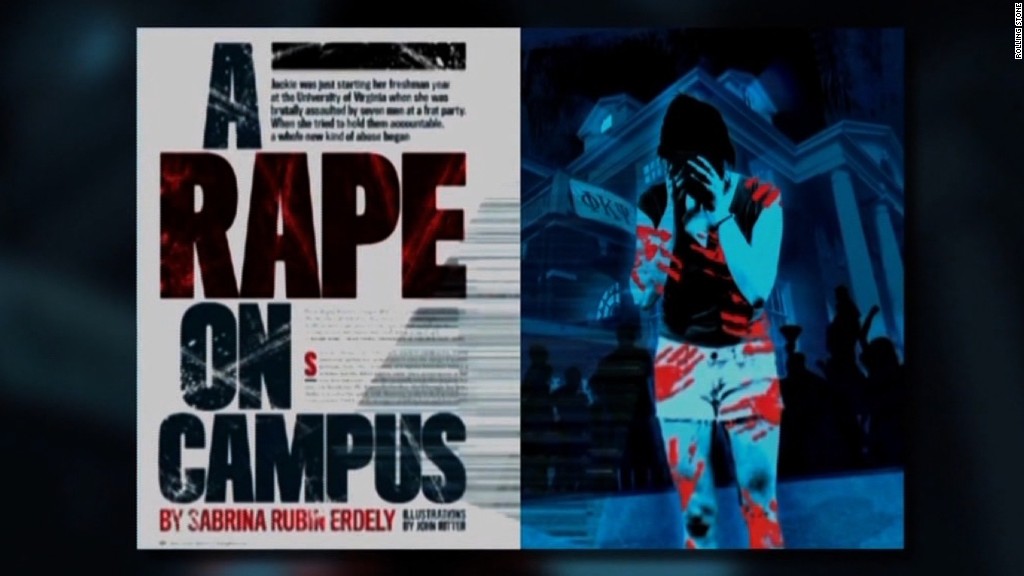 The lawyers of alleged University of Virginia rape victim "Jackie" have asked a court to cancel a scheduled deposition in a lawsuit being brought against Rolling Stone for its discredited article about a gang rape at a fraternity on campus.
Jackie's lawyers claim she would be re-victimized if forced to recount the incident under oath and would be at risk of "extreme psychological" and "irreparable harm."
The former UVA student, whose account of the incident formed the basis of the Rolling Stone article, has not been identified in court papers. The article detailed a gang rape, but the story was eventually retracted, and police in Charlottesville found no evidence to support Jackie's claim.
Rolling Stone apologized for the article and the fraternity was ultimately cleared.
The magazine is now facing several lawsuits.
Related: Rolling Stone sued by UVA frat over 'Rape on Campus' story
Related: Rolling Stone sued by UVA frat members
Jackie has been subpoenaed to testify in the $7.5 million libel suit being brought against the magazine by Nicole Eramo, a UVA associate dean of students. Eramo was described in the article as an insensitive and uncaring administrator.
Eramo's suit filed in federal court in May 2015 alleges that the article harmed her professionally.
However, Jackie's lawyers claim Eramo has "constantly attacked" her and "demonstrated no concern for the undeniable and significant psychological harm" she suffered. They accuse Eramo of "victim blaming and shaming."
Related: UVA dean files defamation suit against Rolling Stone
Jackie's lawyers also argue that evidence shows forcing a rape victim to recount an assault is extremely detrimental.
Eramo's lawyers accuse Jackie of being a "serial liar," who made up the gang rape in order to get a male classmate to date her.
The dean's lawyers claim they have been trying to depose Jackie for some time now and had offered to make the questioning less demanding if she admitted to fabricating the story.
Rolling Stone and the reporter who wrote the article, Sabrina Rubin Erdely, who are being sued by Eramo, agree that Jackie should be deposed.
Rolling Stone also faces a $25 million suit from the UVA fraternity Phi Kappa Psi that was named in the article.
Three former frat members have also filed a suit against Rolling Stone, but have not specified an amount.