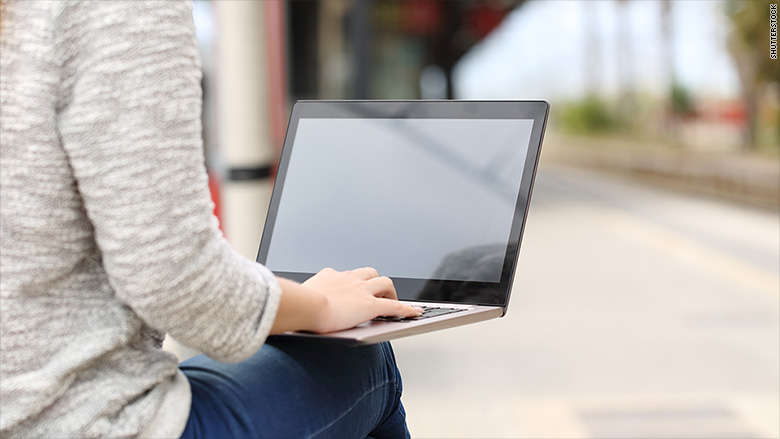 As everything from homework and job applications move online, millions of Americans who can't afford to access the Internet risk being left behind, creating a massive digital divide.
On Thursday, that gap may finally close a little. The Federal Communications Commission is expected to vote on a proposal to expand its 31-year-old Lifeline program, which currently subsidizes telephone access for low-income Americans. If approved, the program would offer low-income households a $9.25 a month subsidy for broadband Internet access at home or to add a data plan to their cell phones.
More than 40 million could be eligible for the program if they meet income requirements or are enrolled in government benefit programs like SNAP. Although roughly 12 million currently participate in Lifeline.
Related: How your cell phone taxes help poor people
Chivona Roberts, 28 and a mother of two, is a teacher's assistant and part-time student in Utica, Mississippi, who does not own a computer and does not have Internet access at home.
She said she often goes to her local McDonald's or a cousin's house to connect to the Internet.
For Roberts, the vote can't come soon enough. She often relies on her teacher's understanding that she doesn't have Internet access when she turns in assignments late. "I can't type up a paper on my phone," she said.
The White House has also thrown its support behind the Lifeline program's expansion. In a statement issued earlier this month, President Obama also unveiled a broader initiative called ConnectALL that called on non-profits and the private and public sector to connect 20 million homes to the Internet by 2020.
Critics of the Lifeline expansion said the program has been abused, particularly with weak application guidelines that allowed unqualified participants access to subsidies. The FCC has acknowledged that there are "basic design flaws that must be fixed," including how to certify eligibility for the program.
Some wireless carriers, including Sprint, said they were concerned about speed and data requirements that might be implemented as a result of the expanded Lifeline program.
Under the current proposal, participants would receive unlimited minutes for basic cell phone service or 500 MB of cell phone data, which Sprint says could cost more than the $9.25 federal subsidy. Those additional costs could end up being passed on to participants.
Related: Why poor families are paying more for everyday items
But broadband access is especially important for low-income families who primarily rely on their phones to connect to the Internet, said Vikki Katz, an associate professor of Communication at Rutgers University.
According to a Rutgers study she co-authored, low-income families that rely primarily on mobile devices are 30% less likely to shop online, 25% less likely to pay their bills online and 14% less likely to apply for jobs online. And as more government agencies and services for the poor migrate online, these families are less likely to apply for them.
"Social inequality and digital inequality are linked to each other," Katz said. "The groups that are least likely to apply for jobs and services online are the ones who need them the most."
Related: Why the racial wealth gap won't go away
Katz's study also found racial and ethnic disparities in Internet use and connectivity. Twenty percent of immigrant Hispanic families did not go online at all, compared to 4% of white and U.S. born Hispanic families and 2% of black families.
Steven Renderos, a senior campaign manager at the Center for Media Justice acknowledged that the Lifeline extension is just one part of a broader effort needed to close the "digital divide."
Some families will still have to choose between using the subsidy to have broadband computer access at home or for mobile phone use. "Mobile broadband is not a replacement for an in-home computer," Renderos said. "It's not just about checking a Facebook profile."