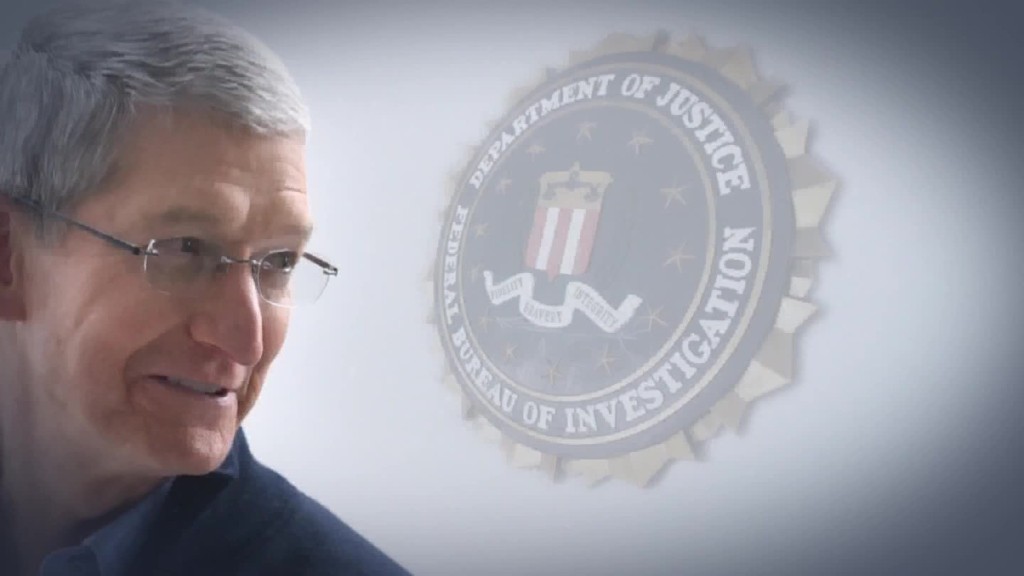 Federal agents are quietly using a 1789 law called the All Writs Act to try to force Apple and Google to unlock phones in at least 20 states.
On Wednesday, the American Civil Liberties Union released findings of a study it conducted by searching through federal court records, many of them sealed to keep them secret.
The pro-privacy group found 63 instances in which federal law enforcement agencies are trying to compel companies to help break into suspects' phones by invoking the All Writs Act. The 227-year old law empowers judges to fill in the gaps of other, more explicit laws.
The ACLU published an interactive map that details the cases.
"We think this is important because it shows just how widespread the government's attempts to get tech firms to bypass phone security are -- and they're mainly doing it in non-terrorism cases," said Josh Bell, an ACLU spokesman.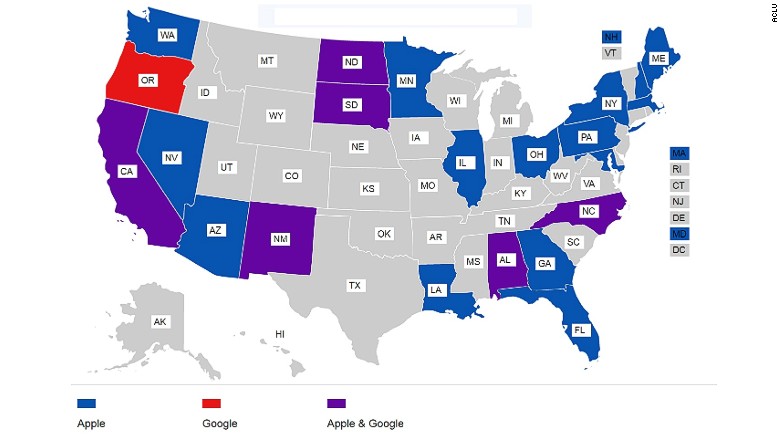 The government's use of the All Writs Act has come under fire after Apple fought back in a case involving the iPhone of the dead San Bernardino terrorist. Apple argued the FBI couldn't force it to write code that would allow the FBI to hack into an iPhone. (The FBI dropped that case after figuring out a way to break in without Apple's help.)
CNNMoney reviewed some of the cases discovered by the ACLU. Many of the cases it highlighted are closed.
In one California case last year, a federal magistrate judge approved an FBI agent's request that Google to hand over a suspected methamphetaime dealer's account password for two Android phones.
In 2014, FBI agents got similar approval when investigating an illegal gambling business operating from inside three villas at the Caesar's Palace hotel in Las Vegas. Agents seized several iPhones and iPads, and a federal magistrate ruled that Apple must "provide reasonable technical assistance... to unlock the passcode protection and... extract data from the devices." Apple told them it would take nine months.
Then there's the 2014 case in which a federal judge in Florida ruled that "the All Writs Act was properly invoked" in a case involving a couple that coerced a 15-year-old girl to be a prostitute on Backpage.com. Agents wouldn't have been able to search the damning contents of the suspect's iPad "without assistance from Apple," wrote U.S. District Judge Kenneth A. Marra.
The ACLU was tipped off about the existence of these cases when federal prosecutors, in a phone unlocking case in Brooklyn, revealed that the Department of Justice had already secured 70 similar orders using the All Writs Act.
"The FBI wants you to think that it will use the All Writs Act only in extraordinary cases to force tech companies to assist in the unlocking of phones. Turns out, these kinds of orders have actually become quite ordinary," ACLU attorney Eliza Sweren-Becker wrote in a blog post Wednesday.
In a statement, Department of Justice spokesman Peter Carr said "the fact that federal law enforcement uses court process to obtain critical evidence in criminal investigations should not be surprising nor newsworthy." He pointed to several past cases in which Apple helped crack iPhone passcodes to solve crimes involving the rape of children, narcotics drug dealing and child pornography.
Google told CNNMoney it routinely complies with law enforcement.
Company spokeswoman Nina Tyler said Google has "never received an All Writs Act order like the one Apple recently fought that demands we build new tools that actively compromise our products' security." The company would fight that in court, she assured.
FBI Director James Comey has defended the use of the All Writs Act in the past, saying that it is not outdated and serves as a useful tool for solving crimes.
Using the All Writs Act to force companies to help investigators is an awkward maneuver, because the law is open-ended. Critics say law enforcement shouldn't be allowed to use this law to claim such broad authority.
In February, Federal Magistrate Judge James Orenstein criticized this use of the All Writs Act in a case involving an iPhone belonging to a drug dealer in Brooklyn. The judge said law enforcement inappropriately tried to use powers that it hasn't been given by Congress.
U.S. Representative Ted Lieu, a Democrat from California, has asked the FBI to stop doing this.
"Let Congress, stakeholders, and the American people debate and resolve these difficult issues, not unelected judges based on conflicting interpretations of a law passed 87 years before Alexander Graham Bell invented the telephone," he said in February.