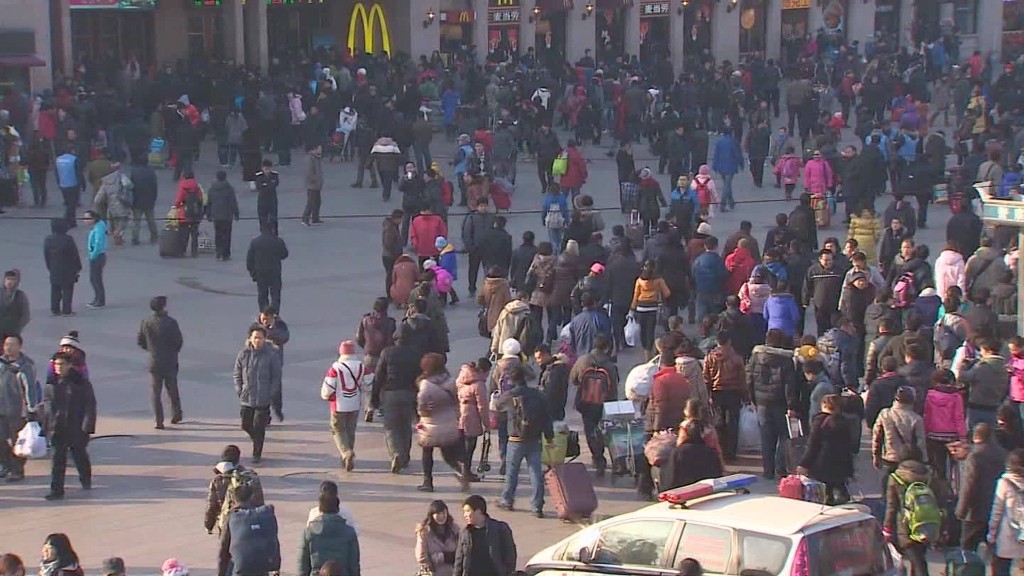 Bad loans are rising quickly at China's top banks.
The slowdown in the world's second largest economy is taking its toll on large commercial banks as more and more businesses and people struggle to repay their debts.
Three of China's giant state-controlled banks reported their 2015 earnings late Wednesday. And all three posted big jumps in non-performing loans, the financial term for loans that have gone sour.
Industrial and Commercial Bank of China (IDCBF), the country's largest lender by assets, said non-performing loans leaped 44% from a year earlier to about 180 billion yuan ($28 billion).
Its rivals China Construction Bank (CICHF) and Bank of China (BACHF) suffered increases of 47% and 30%, respectively, according to a CNNMoney analysis of their statements.
Related: China's central banker warns on high corporate debt
The worsening situation hasn't become a full-blown crisis yet -- the three banks have funds set aside to cover some losses and are all still generating tens of billions of dollars in profits.
But after years of strong growth, those profits hardly rose at all in 2015. China Construction Bank's net profit inched up just 0.1%.
And the companies don't appear to expect things to improve anytime soon.
"China's economy will face great downward pressures, including pressures on asset quality," Bank of China warned in its outlook for this year. It pointed to the country's slowing growth and efforts by Chinese officials to shift the economy away from its reliance on exports and debt-fueled investment.
Across all China's commercial banks, bad loans soared to a total of 1.27 trillion yuan ($196 billion) last year, more than double the figure from two years earlier, according to the national banking regulator.
Related: China hits pain barrier on road to prosperity
Policymakers and analysts have expressed concern about the heavy debt load that the Chinese economy has amassed during its years of rapid expansion.
"Rising non-performing loans in China's banks are the direct result of an unprecedented 5-year debt binge and a slowing economy," the consulting firm PwC said in a report last year.
The governor of China's central bank warned earlier this month that overall debt levels, particularly among corporations, were "on the high side" and pose risks to the economy.
The big banks are backed by China's government, and authorities would be expected to step in if bad loans rise too high and threaten the lenders' solvency.
Chinese officials have talked about introducing measures to try to tackle the huge corporate debt load, including allowing companies to pay off loans with shares rather than cash. But there are doubts whether that will be enough to make a meaningful difference to the heavy burden.