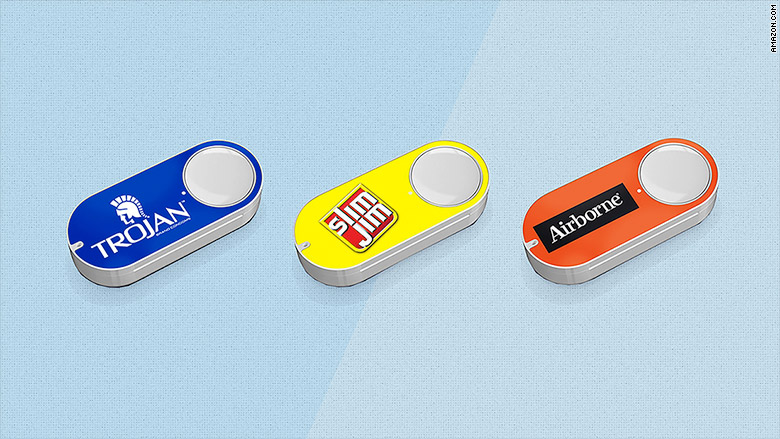 There's nothing worse than running out of condoms and sunflower seeds when you're too busy to run to the store.
Luckily, Amazon has added more than 70 new Dash buttons to prevent such a disaster. Dash buttons are small wireless buttons covered in a brand's logo that you stick on walls, in pantries or, in the case of condoms, someplace more discreet.
When you run out of a product, like cat litter, one press of the button places an order with Amazon (AMZN). Within two days, it'll arrive on your doorstep. The buttons cost $4.99 but include a $4.99 credit with Amazon. They're only available to Amazon Prime customers, and each button only works with a select number of products and quantities for that brand.
Related: Eight odd tricks to try with your Amazon Echo
Amazon first introduced the odd technology a year ago, and there are now more than 100 Dash buttons available. Some of the newest additions include Trojan, Playtex Sport Tampons, Musinex, and Vitamin Water.
Many of the new buttons are for more obscure products. Most homes will need a regular supply of detergent and toilet paper, but refills of Stacy's Pita Chips, Glucosamine, or Rid-X Septic Treatment are a bit niche.
However, Amazon knows more about people's buying habits than we can imagine, so it likely has enough data on beef jerky consumption to justify a button just for Slim Jims. (Yes, there's one for that too.)
Amazon is constantly experimenting with ways to make it easier for people to spend money on Amazon. Its Echo speaker lets a person order anything by just saying it out loud. The Dash scanner is a handheld device for saying orders or scanning products. And the Dash Replenishment Service lets devices like pet food dispensers automatically reorder supplies. A single button seems like a low-tech approach, but it might be a lifesaver when you're out of toilet paper (if you can wait two days for it).