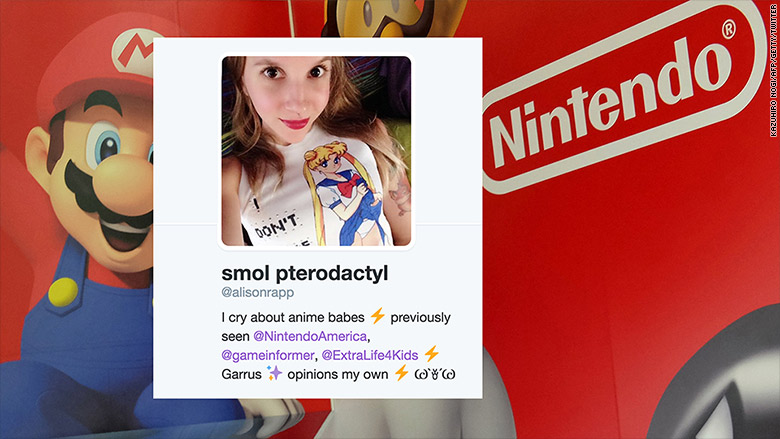 Nintendo fired a woman named Alison Rapp on Wednesday, a decision that's putting the spotlight back on harassment in the gaming industry.
Rapp worked in marketing at Nintendo and has been a vocal advocate for women in gaming.
She was also a frequent target of online vitriol from supporters of a movement known as GamerGate. The movement purports to promote ethics in gaming -- but has been condemned for harassing women and their supporters in the gaming industry.
It was this harassment that Rapp posits cost her her job.
Rapp had found herself in the hotseat over Nintendo's decision to tone down its sexualization of girls in games, according to Kotaku.com. Though Rapp wasn't involved in the decision-making process behind these changes, she become a sort of scapegoat for those who disagreed with Nintendo.
For its part, Nintendo (NTDOF) said it let go of Rapp -- who had been at the firm since 2013 -- because it discovered she was "moonlighting" with a second job, which it said it doesn't allow.
"Alison Rapp was terminated due to violation of an internal company policy involving holding a second job in conflict with Nintendo's corporate culture," according to a statement sent to CNNMoney. "Though Ms. Rapp's termination follows her being the subject of criticism from certain groups via social media several weeks ago, the two are absolutely not related."
Rapp didn't respond to requests for comment, but in a series of tweets addressing her termination, she said the company didn't prohibit side jobs. She said the very fact that Nintendo found out about her moonlighting -- which she was doing under a pseudonym -- was due to online trolls trying to take her down. It's not apparent what type of work she was doing, and Nintendo declined to elaborate.
"GG has been digging up all kinds of things about my personal life and contacting Nintendo about them," she tweeted.
Related: How one hashtag can ruin your life
This type of harassment falls into something known as "doxxing," where trolls use public platforms to dig up personal information and threaten someone's safety -- or, in this case, job.
In her tweets about Nintendo, Rapp painted a picture of a company that shied away from discussing the hard stuff. She said that after working at the company for one month, she was "asked not to tweet about rape culture because it could become a big story." More recently, she said she was stripped of her spokesperson status at the company, which she said was due to negative attention online.
"Do you think that if the industry wasn't afraid of women, sex-positivity, etc. that the anon moonlighting I did would have been a problem?" she tweeted.
Related: One tweet ruined her life
Nintendo said it is "committed to fostering inclusion and diversity in both our company and the broader video game industry, and we firmly reject the harassment of individuals based on gender, race or personal beliefs."
But Rapp's dismissal has some Nintendo fans rethinking their support of the iconic gaming company.
Gamer Chris Kluwe, a former NFL player, pledged to no longer purchase Nintendo products due to the company's treatment of Rapp.
"She was harassed consistently, over a period of months, and Nintendo not only remained silent, but decided today to fire her," he wrote, sharing the note with his 190,000 Twitter followers. "I cannot condone this kind of corporate behavior, where a hate mob can cost a woman a job, and I will not contribute to a future where that might happen to my own daughters."