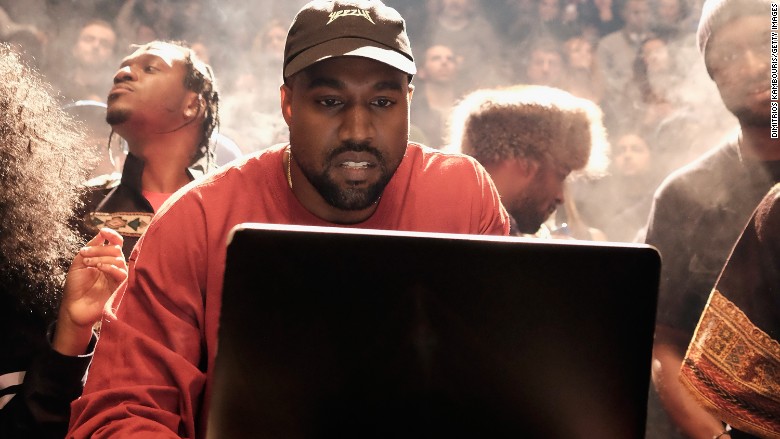 Kanye West made it sound pretty definitive back in February when he vowed his latest album would "never never never" be on Apple.
But the hip hop superstar has gone back on his word: the album, "The Life of Pablo," is now available on Apple Music.
It's also available on Apple (AAPL)'s music streaming rival Spotify.
In his Twitter outburst in February, West had said that the album would "never be for sale" and was only available on fellow rapper Jay Z's music service, Tidal.
That remained true for more than six weeks. And the album proved extremely popular on Tidal where users streamed it 250 million times in its first 10 days, according to the company.
But a hint that West's stance was shifting came earlier this week when "Famous," one of the songs from "The Life of Pablo," was released on Apple Music, Spotify and other platforms.
West hasn't so far launched into one of his trademark Twitter rants about his U-turn on Apple. His only tweet Thursday night was an announcement that the album was "now available for purchase" on his website.
Related: 'The Life of Pablo' streamed 250 million times in first 10 days
It wasn't immediately clear to what extent the album's broader release might affect user numbers at Tidal, of which West is reported to be a part owner.
The one-year-old music service announced this week that it has more than 3 million subscribers across 46 countries.
Unlike other streaming services, Tidal has two subscriptions tiers and no free option for listeners beyond an initial 30-day trial.
"Kanye put Pablo on Spotify and my free Tidal trial ran out not too long ago," wrote one Twitter user, @paynesparade. "This is just wonderful."
-- Frank Pallotta contributed to this report.