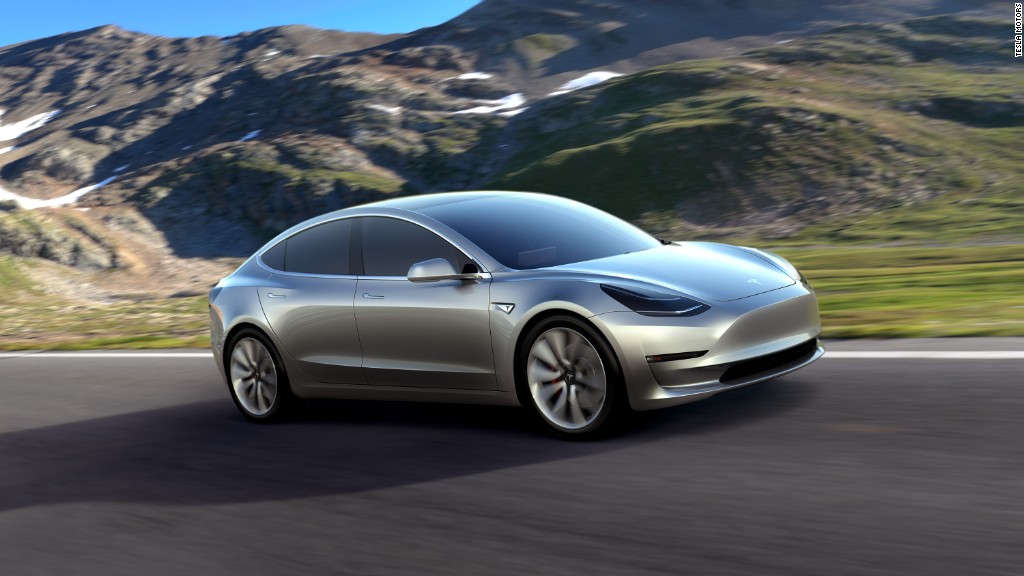 Even Elon Musk is surprised by the massive demand for Tesla's new Model 3.
Musk tweeted Friday that Tesla was flooded with 200,000 orders 24 hours or so after it began taking deposits. He added that the company will have to reconsider how it will meet that demand.
The car's starting price is $35,000, but Musk said that the average selling price so far is $42,000, since the cars can be loaded up with options. That means the company has logged about $8 billion in sales.
Most buyers didn't even wait to see Musk unveil the Model 3 Thursday night in California. By the time he took the stage at 8:30 p.m. PT, there were already 115,000 orders.
"Future of electric cars looking bright!" Musk tweeted earlier Friday.
Before the Tesla event started, buyers had to go to a Tesla store to reserve a Model 3. Online ordering opened up about an hour before the unveiling.
But they'll have to wait until the end of next year, if not 2018, to take delivery of their new cars. Musk warned that the wait is getting longer as the orders pile up.
"Thought it would slow way down today, but ... the wait time is growing rapidly," he tweeted.
It was an impressive launch, Morgan Stanley auto analyst Adam Jonas said in a note to clients Friday.
"If Tesla can produce and deliver (even roughly on time) the car they unveiled last night at close to a $35,000 price, then this stock is probably quite undervalued," he said. "Granted, it's only a fully refundable thousand dollar deposit, but to achieve well over 100,000 preliminary orders for any car in the first 24 hours, even with no deposit, is an admirable achievement."
Related: Tesla reveals its $35,000 car for the masses
Tesla (TSLA) shares rose 3.4% on Friday. The company's stock has been under pressure thanks to low oil and gas prices, raising concerns about how viable a mass market electric car can be.
People who bought Tesla's luxury Model S and Model X probably weren't motivated by high gas prices, but mass market car buyers are more sensitive to prices at the pump.
Investors also worried about delays and cost overruns associated with the Model X crossover, which went on sale late last year. And production of the Model 3 has gotten off to a slower start than many had hoped.
Shares of Tesla were down more than 40% year-to-date in mid February. But shares have been climbing for the last month as oil prices recovered and anticipation built for the Model 3 unveiling.