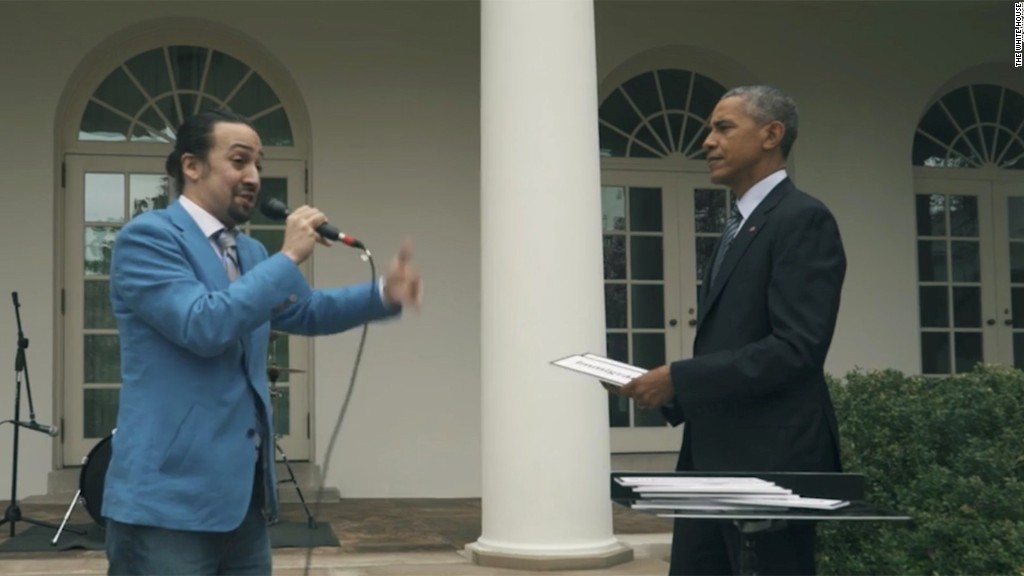 The hit musical "Hamilton" is Broadway's equivalent of The Beatles.
"I think I'm going to cry," a young woman next to me said as the show was about to begin. "I can't believe I'm here."
Everyone from Bill Gates to Beyoncé to President Obama has seen it and taken selfies with the cast. Obama even invited "Hamilton" creator and star Lin-Manuel Miranda to the White House this month. Miranda rapped in the Rose Garden.
Related: Why we love 'Hamilton'
Sure, "Hamilton" has memorable (rap) music and great acting and dancing. But what makes it stand out is a story of substance. It's American history -- told in a way that makes you want to jump out of your chair, not snore.
Alexander Hamilton was an American Founding Father and the first U.S. Treasury Secretary. He went from being an orphaned immigrant to attend college and rise to the top of U.S. society. His face is on the $10 bill.
Related: 'Hamilton' creator lobbies Treasury on the $10 bill redesign
Beyond being fun to watch, the musical has pretty good career -- and life -- advice. Here are 5 great knowledge bombs from "Hamilton":
1. "Dying is easy, young man. Living is harder."
George Washington gives this advice to a young Alexander Hamilton in the song "Right Hand Man." Hamilton wants to go to the front during the Revolutionary War and make a name for himself in combat. Washington reminds him it's easy to charge into most things in life. Smart people think first and figure out how to win the war with more than blind optimism.
Related: I went from Wall Street...to working at Waffle House
2. "I'm just like my country, I'm young, scrappy and hungry."
Hamilton sings this line a few times during the show (for example in the song "My Shot"). It's basically the motto of Silicon Valley, but it started a lot earlier than that. Hamilton comes across as the Energizer Bunny. He just keeps going after what he wants, whether it's a woman, a debt law or a federalized system of government.
Related: How this son of migrant farm workers became an astronaut
3. "Look around, look around at how lucky we are to be alive right now."
Optimism comes up time and again as a key characteristic of successful people. You have to believe in yourself and your team to make something happen. In "Hamilton," the first people to sing this line are the three Schuyler sisters (in the song titled "The Schuyler Sisters"). One of them, Eliza, marries Hamilton.
Related: 'Downton Abbey's' 5 great money lessons
4. Aim to be in "the room where it happens"
Aaron Burr, the man who shoots Hamilton, sings a powerful song in the second act called "The Room Where It Happens." It's basically the Broadway version of Sheryl Sandberg's "Lean In." You have to assert yourself. Hamilton excels at this. He talks his way into being Washington's aide at a young age. Burr on the other hand never gets into the top power broker club because he often waits and hesitates.
5. "I should have known the world was wide enough for both Hamilton and me"
After Burr kills Hamilton, he sings a song of regret ("The World Was Wide Enough"). He wishes he had realized that both he and Hamilton could succeed, it wasn't a zero-sum game. A lot of people struggle with jealously. It holds people back personally and professionally.
Related: How I got an $11,000 raise
Bonus: "Immigrants, we get the job done."
One of the lyrics that gets the most applause from Broadway audiences is when Hamilton and the Marquis de Lafayette talk about getting the job done with their immigrant work ethic to win the Battle of Yorktown. It's the battle that ends the Revolutionary War.
Each generation of immigrants to the U.S. comes with renewed dreams and drive. "Hamilton" the musical has a diverse cast to remind the world that the American Dream -- Hamilton's dream -- has happened for many.