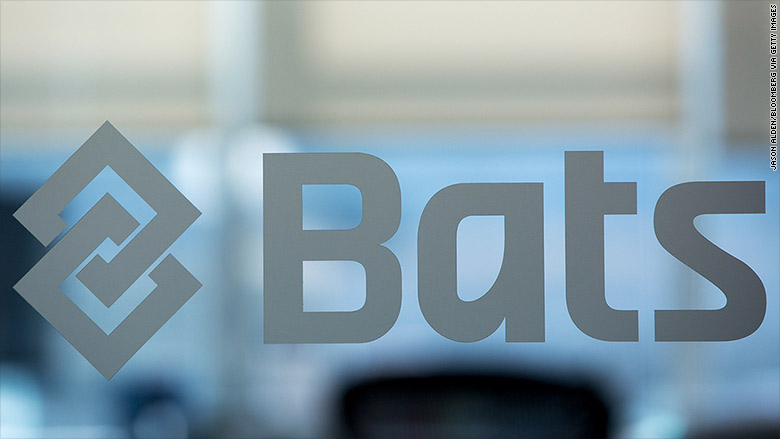 The 2012 attempted IPO of Bats Global Markets could not have gone any worse.
Almost exactly four years ago the electronic stock exchange tried to go public on its own platform. But an embarrassing technical glitch prevented the stock from trading. Ultimately, Bats was forced to kill its own IPO. The botched debut badly tarnished its reputation.
It was the baseball equivalent of swinging and missing -- and having the bat fly into the dugout, injuring your star pitcher.
But now Bats wants a redo. The Kansas City company on Monday launched an IPO road show in New York to test current investor appetite for its stock. Bats also filed regulatory filings detailing its planned IPO, which could come as early as next week.
Once again, Bats is planning to list the stock on its own exchange. That could be risky again because Bats still has no experience with corporate listings. In fact, this would be its first corporate listing.
Bats even warned investors in its IPO prospectus that the company could "suffer a technological failure" like the March 2012 glitch, which was caused by a software bug.
It was a "high-profile event that damaged our reputation and resulted in increased regulatory scrutiny," Bats said.
Related: No tech firms went public this quarter
While Bats admitted there can be no guarantee a repeat won't happen, the company said it thoroughly investigated the incident and made changes aimed at fixing it.
"Hopefully these technology wizards get the technology right this time," Michael Block, chief strategist at Rhino Trading, wrote in a note.
Bats has run more than 100 days of live testing of the IPO process and has stress tested volumes nearly three times the size of the 2012 Facebook IPO, a person who listened to the Bats road show presentation on Monday told CNNMoney.
Facebook's (FB) enormous debut on Nasdaq was also marred by technical glitches that created confusion and delayed the start to trading. However, unlike the Bats incident, the Facebook IPO did get off the ground the same morning.
Even though the 2012 failed IPO was a black eye, Bats has rebounded financially thanks in part to its 2013 acquisition of rival Direct Edge. Today, Bats is the No. 2 exchange operator of U.S.-listed stocks by market share and the largest exchange operator of ETFs, according to its IPO filing.
But the exchange industry is not exactly the sexiest business these days, with intense competition between the New York Stock Exchange, Nasdaq (NDAQ) and newer rivals pressuring margins and profits.
Related: The silence in the IPO market is deafening
In a regulatory filing, Bats said it plans to sell 11.2 million shares of common stock. The company set an expected range of $17 to $19 and said its ticker symbol will be "Bats." Bats itself won't receive any proceeds from the planned IPO. Instead, the sale will create an exit for existing shareholders.
Bats is owned by a consortium of investors, including Bank of America Merrill Lynch (BAC), Citadel, Citigroup (C), Goldman Sachs (GS) and JPMorgan (JPM), among others.
Bats is attempting its redo at a very different time in the IPO market. While Yelp (YELP) and Facebook were generating lots of IPO excitement four years ago, exactly zero tech firms went public in the U.S. in the first three months of this year. Overall, U.S. IPOs raised just $700 million in the first three months of 2016, the lowest amount of proceeds in a first quarter in at least 20 years, according to Renaissance Capital.
"The IPO market has been in this winter freeze. This is an icebreaker," said Kathleen Smith, principal at Renaissance Capital, which manages IPO-focused ETFs.