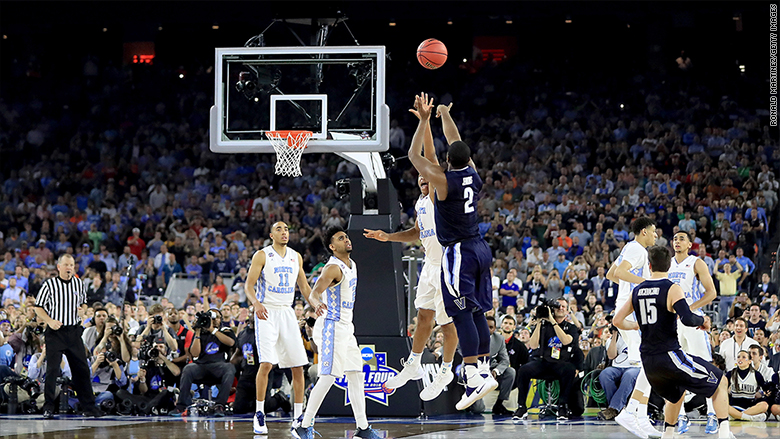 This year's NCAA men's basketball national championship game will be remembered for ages, but the game delivered ratings that television executives may prefer to forget.
Monday night's thrilling conclusion to March Madness, which saw the Villanova Wildcats top the North Carolina Tar Heels with a breathless finish, averaged 17.8 million total viewers across TBS, TNT and truTV.
That represents a huge dip from last year, and was the lowest rating for a title game since 2009.
There are some plausible explanations for the decline. For starters, this year's championship aired on cable for the first time in the history of the competition.
Related: U.S. women soccer players charge pay discrimination
Networks like CBS, where the title game has been broadcast in previous years, generally draw larger audiences than cable channels.
Monday's game aired on a trio of Turner Broadcasting entities. TBS aired the main championship broadcast, while TNT and truTV showed team-specific versions of the game.
Last year's title game between the Duke Blue Devils and Wisconsin Badgers drew an average of 28.3 million viewers, which was the highest rating for an NCAA championship in 18 years.
Related: Keith Olbermann wants a piece of the 2016 campaign
This year's ratings may have also been beset by the tournament's waning momentum. Villanova and North Carolina produced an instant-classic, but the two semifinal games that preceded it were decided by an average of 30 points.
Turner Sports -- which, like CNN, is owned by Time Warner -- and CBS secured the rights to the NCAA Tournament games through a multi-billion dollar deal in 2010.
As part of the deal, the Final Four and national championship will alternate between CBS and TBS beginning this year.
That means that in 2017, the title game will return to CBS -- and potentially more television sets, too.