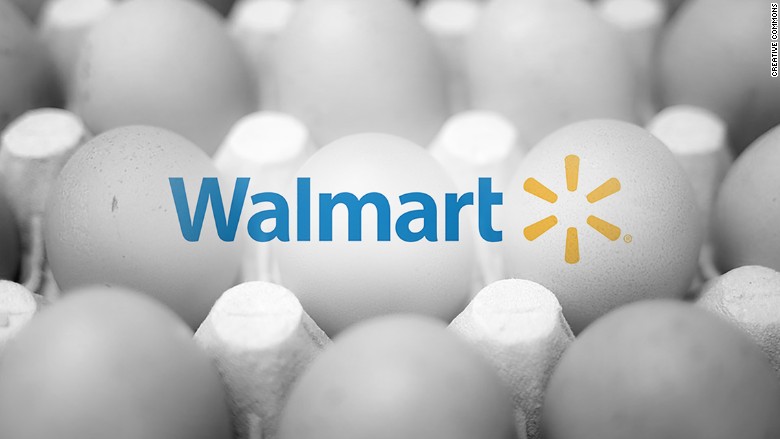 Walmart will switch to selling cage-free eggs only by 2025, the company said Tuesday.
The country's largest retailer joins a growing list of companies that have made the pledge.
It's a big win for the cage-free egg movement. Walmart's sales account for about 25% of all groceries sold in the U.S.
The new policy will apply to all of its U.S. locations, including its 4,600 Walmart stores and 650 Sam's Clubs.
"Today marks a milestone in the irreversible movement for cage free production," said Wayne Pacelle, president of The Humane Society of the United States, in a statement.
Animal welfare activists say caged hens aren't given enough space to nest, perch or spread their wings. On average, each hen is afforded a space smaller than a single sheet of letter-sized paper, according to The Humane Society.
Related: Cage-free eggs cracked these corporate shells
McDonald's said in September that it will switch to cage-free eggs by 2025. Nestle, Taco Bell, Panera Bread, General Mills, Kellogg's, Shake Shack and White Castle have also recently committed to the switch.
Walmart (WMT) has offered customers cage-free eggs as an option since 2001 in its U.S. stores, and last year it announced a new stance on the treatment of animals. At the time, the company said it would "find and implement solutions" to address animal welfare concerns, but stopped short of pledging to go 100% cage-free.