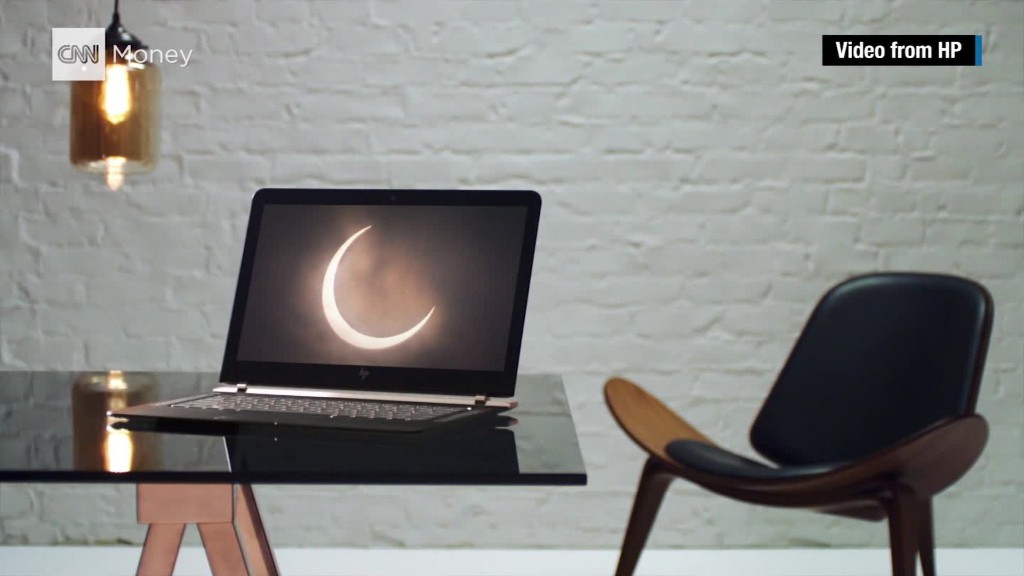 HP has unveiled its new Spectre, the new titleholder for "world's thinnest laptop."
At four-tenths of an inch thick, and weighing a little less than two and a half pounds, it's thinner and lighter than the 13-inch MacBook Air. (It weighs slightly more than the new MacBook and Lenovo Yoga 900S).
HP gave its new portable computer a copper sheen to appeal to anyone who loves gold gadgets or devices that look like jewelry.
The guts of the new Spectre are meant to attract people who care about power: The Spectre boasts an Intel Core i7 processor, 8 GB of memory, and about 10 hours of battery life. And for music lovers, HP tapped Bang & Olufsen to give its laptop cred in the audio department.
HP describes the Spectre as being "more artisan than manufactured" in a promo video.
"It looks as if a craftsman made just one of those," the narrator says.
Related: HP to cut another 25,000 to 30,000 jobs
Spectre is meant to compete with other high end laptops -- and its $1,170 price tag is proof.
HP is in need of a catalyst for its slumping PC division. In the last three months of 2015, HP reported a 11% slump in laptop sales and a 14% slip in desktop sales.
Smartphones and 2-in-1 tablet-laptop devices have put pressure on PCs. People are also holding on to their older computers rather than upgrading.
HP hopes the Spectre can spark a turnaround.
Pre-orders for the new Spectre are available at HP (HPQ) and Best Buy (BBY) beginning on April 25.