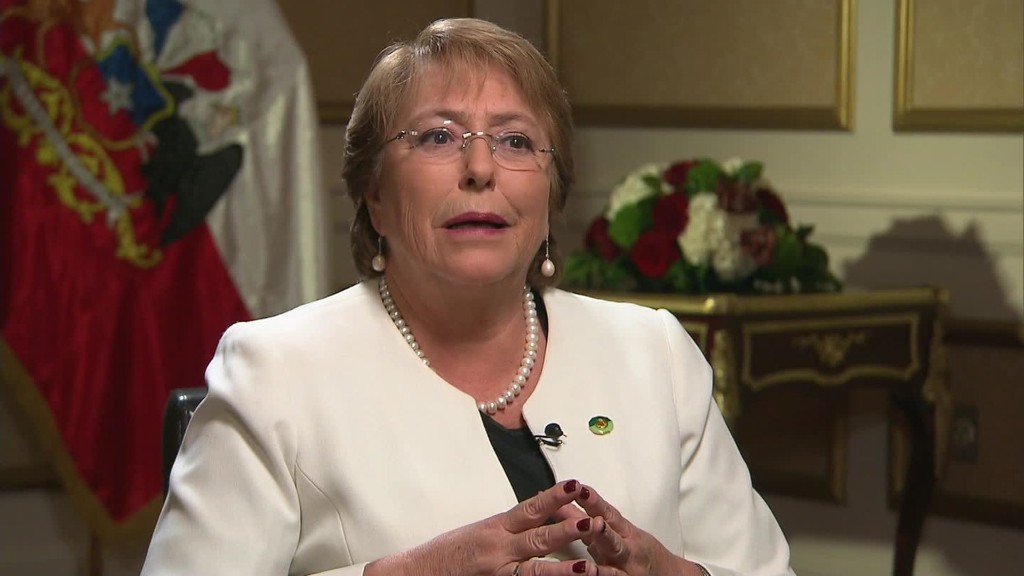 Brazil is in a political crisis and calls to impeach the country's president, Dilma Rousseff, are only getting louder.
But at least one ally is sticking by her side. For now.
"I think that President Dilma, she's a great president, she's a good friend," Chile's President Michelle Bachelet told CNN's Samuel Burke in a wide-ranging interview.
Bachelet's comment is one of the boldest signs of support Rousseff has received from outside her country. Rousseff's approval rating is a mere 10%, according to Brazilian polling agency Datafolha.
Two weeks ago, reporters asked President Obama to comment on Brazil's ongoing political chaos. He called Brazil a "friend" but didn't extend that sentiment to Rousseff.
"We hope Brazil resolves its current political crisis in an effective way," Obama told the press while visiting Argentina.
Related: 5 reasons Dilma Rousseff should be worried
Argentina's new president, Mauricio Macri, didn't name Rousseff either when he responded to the same question, saying he's convinced Brazil will come out of "this process and crisis strengthened."
Rousseff is facing charges for allegedly manipulating the country's fiscal accounts to make Brazil's deficit appear like it wasn't as bad as it really was -- right before Brazil's election in 2014.
However, Brazilians aren't up in arms over any alleged fiscal account fudging. Nearly everyone connected with Rousseff has been accused of accepting bribes in the unprecedented bribery scandal at Brazil's giant state-run oil company, Petrobras. The Petrobras scandal and Brazil's spiraling economy have put Rousseff on the edge of impeachment.
Related: Rio Olympics ticket sales slump
A corruption scandal is also growing in Chile, involving one of the country's most prominent companies, Sociedad Quimica y Minera, which produces fertilizer. Fundraisers and aides to Bachelet have been accused of accepting bribes, but Bachelet has not been accused or charged with anything.
The scandal, if proven true, would be a major black eye for Chile, which has been lauded as an example of a country that's peacefully transitioned from a dictatorship to democracy in 1990.
Bachelet denied knowledge of any bribes in her interview with CNN and said any corruption cases would go through Chile's judicial system.
"I don't know if anyone close to me had accepted any bribes," Bachelet said.
Like Rousseff, Bachelet's approval rating has dropped as the scandal has widened over the last several months. In mid-2014, Bachelet's approval rating was 58%. Now it's 27%, according to La Tercera, a Chilean news outlet.