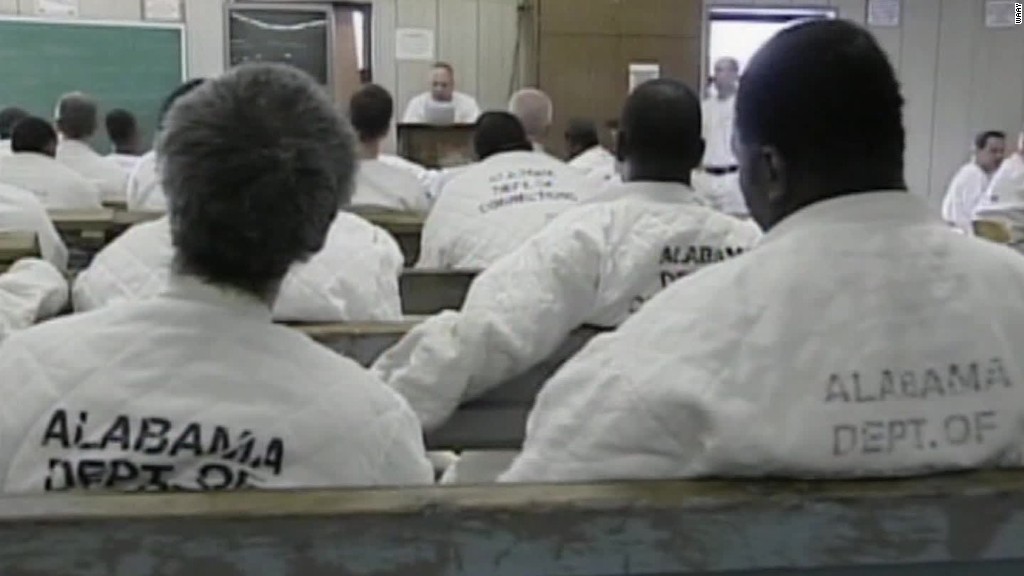 Prisoners aren't allowed to have cell phones, but the gadgets keep making their way behind bars -- often with disastrous consequences.
Contraband cell phones are a real problem. They have allowed prisoners to surreptitiously deal drugs, run illegal businesses and even organize murders, right under the noses of guards and wardens. A single South Carolina prison recently detected 35,000 cell phone calls and texts over a 23-day period.
That's why FCC Commissioner Ajit Pai and South Carolina Governor Nikki Haley are pushing to cut off prisoners' access to cell phones. Prisoners are allowed to make phone calls, but only on special landlines that can be monitored by law enforcement.
In 2013, the FCC recommended implementing technology that would prevent inmates from making cell phone calls. But the FCC has failed to take any action over the past three years.
Related: Government's plan to cut sky-high prison phone rates blocked
At an FCC hearing Wednesday, Pai said action is necessary because of incidents like one that happened in Georgia, when a woman was texted images of her incarcerated boyfriend being strangled. The inmate texted her that the beatings would continue unless she sent him $300.
FCC action might have been able to prevent the killing of a murder witness, who was shot three times after the incarcerated suspect called a gang member to pull the trigger.
And blocking contraband cell phones could have prevented the shooting of Captain Robert Johnson, a former prison guard at the maximum security Lee Correctional Institution, in Bishopville, South Carolina. In 2010, Johnson was shot six times by a gunman hired by a prisoner who used a contraband cell phone to order the hit. Ironically, Johnson was in charge of confiscating prisoners' cell phones.
Johnson, who barely survived the shooting, testified that Lee Correctional Institution had asked the FCC to put cell phone blocking systems in place, but the agency denied the request.
"I am angry with this process," Johnson testified. "This technology is available, but its use is not permitted. I firmly believe that if South Carolina Department of Corrections had been allowed to block cell phone signals, my ordeal may not have happened."
Three years ago, the FCC recommended allowing prisons to manage their own cell phone network access, allowing only a pre-approved list of phones to place calls on the network. Guards' phones would be get a full signal, but phones that are smuggled into prisons would have no "bars."
Related: El Chapo's money man captured
Five states -- California, Maryland, Mississippi, South Carolina and Texas -- have tested these systems in their prisons. But under current FCC rules, each prison needs to petition the agency every time it wants to test and implement a managed access system.
The FCC has called that process so "time-consuming and complex" and says it "unnecessarily discourages their use." As a result, the FCC proposed cutting the red tape and streamlining the process for using the technology.
In an op-ed in USA Today this week, Governor Haley noted that South Carolina has expanded its use of managed access systems in its prisons since Johnson's shooting. But she said the FCC must lead the way by loosening its regulation over prisons' airwaves.
In addition to managed access, the FCC is considering forcing wireless companies to block service for contraband cell phones found in prisons. It is also thinking of allowing cell phone detection systems in prisons, though those would require guards to find the phones and take them away.
Wardens have tried and failed to stop cell phones from making their way into prisons. Rather than fight that losing battle, they might be able to prevent cell phones from being used once they make their way inside.