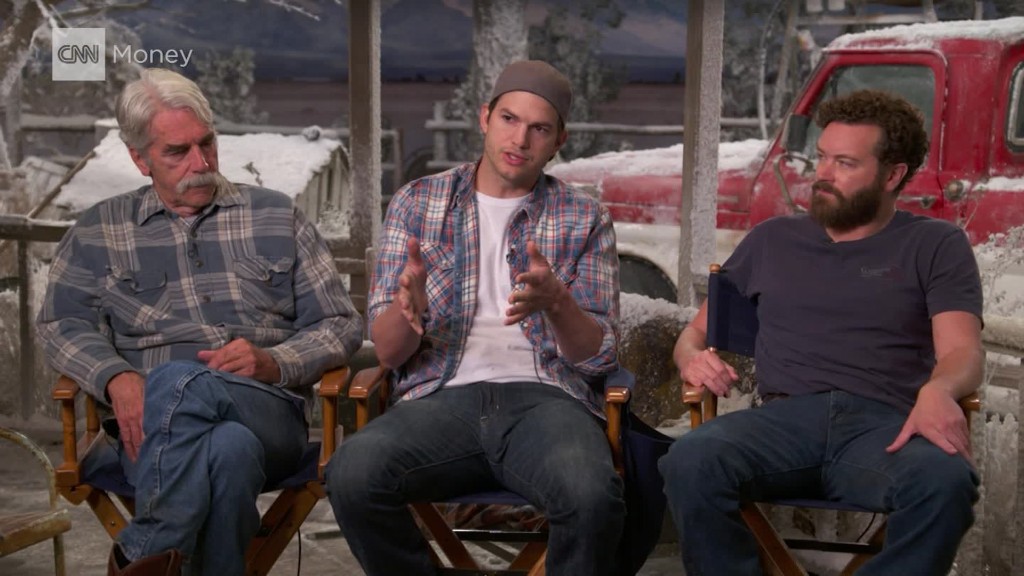 Ashton Kutcher approached his latest show like an entrepreneur. His goal: disrupt the sitcom.
The actor-turned-tech-investor wanted "The Ranch" to break out of the conventional sitcom mold. It's why, Kutcher says, they decided to release the show on Netflix.
The show's episodes run long -- about 30 minutes, there's a touch more profanity, and slaphappy humor is often followed by heavier moments.
Kutcher started by questioning how sitcoms were traditionally produced.
"Why don't they use music underneath scenes to bring a more cinematic quality to scenes? They just hadn't had it in the budget," Kutcher said in an interview with CNNMoney. "Why don't they talk the way that people normally talk in real life? Well that's because it doesn't please the advertisers."
And Kutcher noted that conventional sitcoms are pretty much bound to the 22-minute length -- because of schedules and advertisers, there's no room for flexibility.
Kutcher, who's also an executive producer on "The Ranch," said releasing the show on Netflix (NFLX) allowed them to break away from traditional conventions, expand episodes and tell a more authentic story.
Related: Ashton Kutcher launches tech lab to fight child exploitation
The first 10 episodes of the season were released April 1 for users to binge watch. Netflix plans to release 10 more episodes at a later date. The show features Kutcher, who's returned home following an unsuccessful run at pro-football. It also stars Danny Masterson, who acted alongside Kutcher in "That 70's Show" and Sam Elliott, who plays a no-nonsense father figure with conservative undertones.
Kutcher says the show, which takes place in a rural farm town, touches on a group of people who are underrepresented in the current political climate.
"One of the reasons to make this show is to show the perspective of conservative middle America. I think one of the responsibilities of entertainment is to create a balance between news, media, politics and reality," Kutcher said. "The perspectives, values and beliefs of the collective on this show maybe more accurately represent the masses than the political candidates."
Masterson says the show's humor is rooted in dysfunction and the storylines will strike a chord with many families.
"The things that we're dealing with are the things that people are actually dealing with -- trying to keep their family business alive, trying to keep a marriage alive," Masterson said. "There's a lot of laughter but there's also a lot of scenes that are gut wrenching."