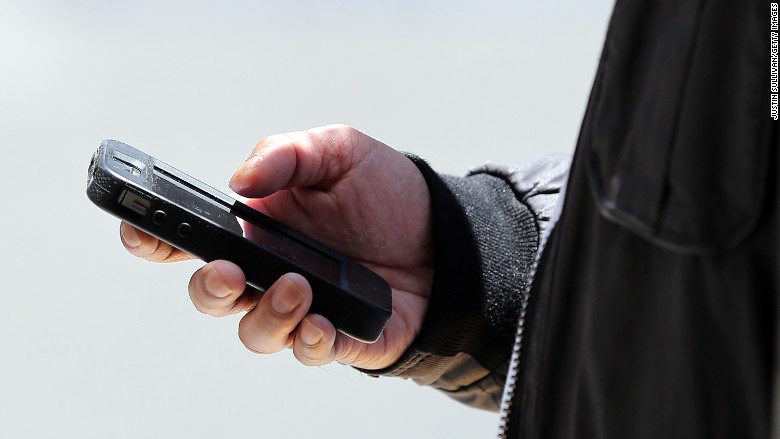 The Federal Communications Commission has announced plans to fine a mobile provider $51 million for defrauding its Lifeline program, which subsidizes wireless service for low-income Americans.
The FCC accused California-based Total Call Mobile of fraudulently enrolling tens of thousands of duplicate and ineligible consumers in the Lifeline program.
The company received an estimated $9.7 million in improper payments since 2014, according to the FCC. In the fourth quarter of that year, 99.8% of the company's enrollments allegedly involved overriding a system designed to stop the registration of duplicate customers.
Related: How your cell phone taxes help poor people
FCC enforcement bureau chief Travis LeBlanc said the agency reserves its toughest penalties for those who "defraud or abuse federal programs."
"Any waste, fraud, or abuse in the Lifeline program diverts scarce funds from the consumers they are meant to serve and undermines the public's trust in the program and its stewardship," he said in a statement.
Total Call, which operates in at least 19 states or territories, did not immediately respond to requests for comment.
Roughly 18 million people eligible for food stamps and Medicaid receive cell phone subsidies through the 31-year-old Lifeline program. Carriers receive a $9.25-per-month subsidy for every person enrolled in the program and are supposed to pass the discount on to customers.
Related: FCC expands Lifeline to help the poor pay for Internet access
The program is not without controversy, particularly among conservatives because of its $2 billion annual price tag. It became even more unpopular in the wake of a 2012 corruption scandal in which instances of Lifeline fraud emerged.
Lifeline at one time enjoyed bipartisan support. The Reagan-era initiative was expanded to include cell phones under President George W. Bush.
In recent years, however, conservative politicians and pundits have dubbed it the "Obama phone" program.
In March, the FCC voted to expand the program to include broadband internet access.
-- David Goldman contributed reporting.