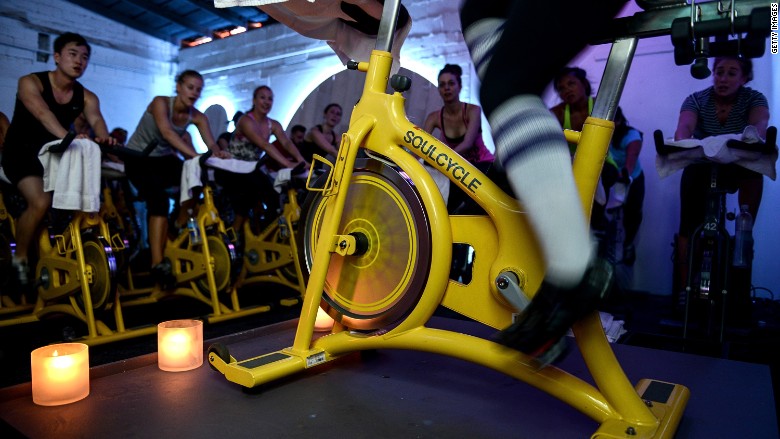 The souls behind SoulCycle have resigned.
On Friday, the company said cofounders Elizabeth Cutler and Julie Rice have left the boutique cycling studio to pursue "new projects."
"They will continue to serve on the board to support the long-term vision of SoulCycle. We are forever grateful to Elizabeth and Julie for creating this incredible company," according to a statement sent to CNNMoney.
Cutler and Rice -- who were serving as chief creative officers -- founded the company a decade ago. (Their third cofounder, Ruth Zukerman, left the company to start Flywheel, a competitor.) But since 2011, Equinox has owned a majority stake in the company (it currently owns 97%).
The news of their resignation, which was first reported by Fortune, comes nearly a year after the company filed to go public.
In July 2015, SoulCycle filed its S-1, with underwriters including Goldman Sachs, Bank of America, Merrill Lynch, Citigroup and Cowen Company. It didn't set an estimated date for the IPO, which it priced at a proposed $100 million.
While the company had been updating its financials, it has yet to file its year-end documents. Companies typically do so 90 days into the new year, according to Kathleen Smith, principal at Renaissance Capital. Updated financials are necessary for the company to go public.
"It doesn't tell you that SoulCycle isn't going forward [with an IPO], but it does mean that they're not right around the corner," said Smith.
Related: Soulcycle sued for selling classes that expire in 30 days
Now helming SoulCycle is Melanie Whelan, who took over as CEO in June 2015.
Whelan has been with the company since 2012, when she joined as chief operating officer. Prior to that, she worked as vice president of business development at Equinox.
The company, which has more than 48 studios, has managed to build a cult-like following of SoulCyclers who cough up at least $34 a class -- not including the cost to rent shoes -- for a 45-minute cardio workout in a dark studio. Classes are all set to party music
In 2014, the company had roughly 235,000 people take their classes.