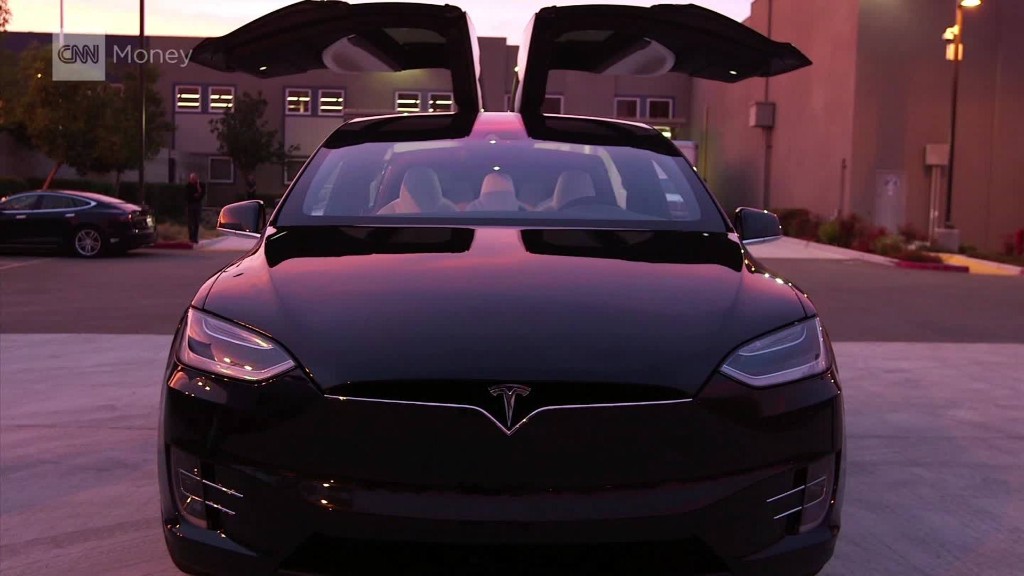 Tesla said Monday it's recalling most Model X SUV over a safety problem with seats. The company is advising owners to not let anyone ride in the third row until the vehicles are fixed.
Tesla (TSLA) said an improperly made part could allow the seat to fold forward during a crash if a person is sitting in it. The company said it does not know of that happening in a crash but that it did in its own tests.
The electric vehicle manufacturer is recalling 2,700 of the luxury SUVs -- all that were made before March 26.
The test was required by safety regulators in Europe but not in the United States, a Tesla executive said. Similar tests conducted for U.S. regulators did not result in a failure, but Tesla is still recalling Model X SUVs in America.
"Our European customers and our U.S. customers are equally important to us," Jon McNeil, Tesla's president of sales, service and delivery, said during a conference call with reporters.
The test was done in preparation for shipping new Model X SUVs to Europe.
Photos - Cool cars from the Geneva Motor Show
Unlike the first and second row seats in the Model X, which are manufactured by Tesla, the third row seats are manufactured by an Australia-based supplier, Futuris. Tesla said Futuris will cover the costs of the recall. Futuris was not immediately available for comment.
The problem was caused by a manufacturing defect in a seat part called the recliner, McNeil said, and not an inherent design flaw in the seat. Not all of the seats necessarily have the problem but, to be safe, Tesla is replacing the seatbacks on 2,700 vehicles that could potentially have the faulty part.
Tesla will ask owners to bring their vehicles to a service center to replace the seatbacks on both of the third row seats. Owners will be contacted by Tesla service centers to schedule the work as parts become available.
The Model X was unveiled last September, but Tesla only recently began to ramp up production of the model.