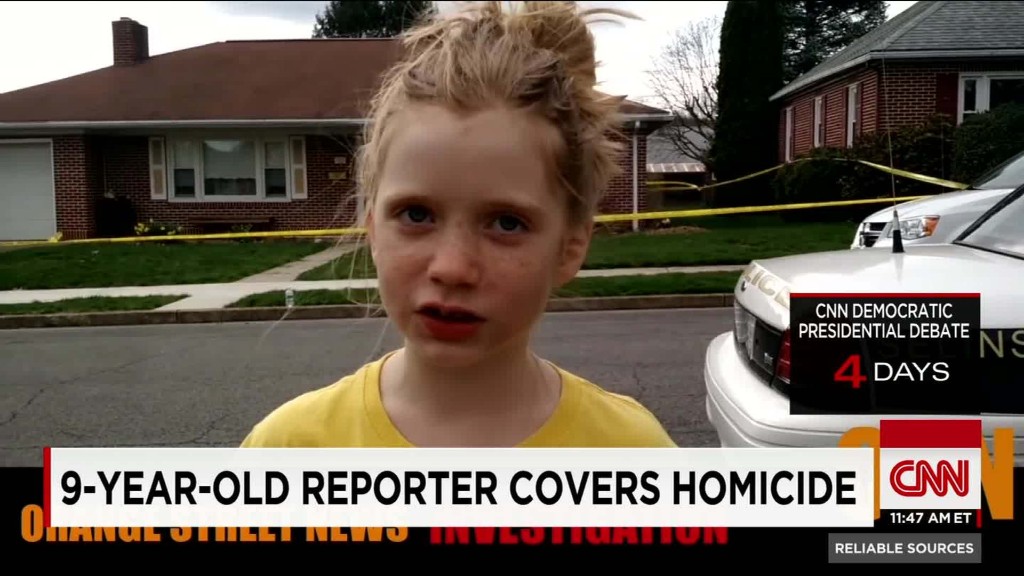 Hilde Kate Lysiak is only 9 years old, but she already understands the basics of journalism.
What does she love about reporting? "I like getting people the information."
How does she come up with the information? "I usually put in my paper that I'm looking for tips and stuff. And people e-mail me tips."
Hilde is the editor and publisher of the Orange Street News in Selinsgrove, Pennsylvania.
She has been working on the monthly publication -- and posting updates to her web site -- for months. Her parents help with aspects like printing, but she says she writes all the news stories.
Hilde's recent coverage of a murder in her town stirred criticism, with some online commenters saying she should be playing with dolls, not playing reporter. The controversy received national media attention, including stories in The Washington Post and a segment on "Good Morning America."
On CNN's "Reliable Sources," I asked Hilde why those commenters were wrong. Her answer: "Just because I'm 9 doesn't mean I can't do great things."
She was tipped off to the crime by one of her readers.
"I went straight to the scene, and I knocked on the neighbors' doors," she said.
That's not all that Hilde has learned about media at a young age. When asked what's going to be in the next issue of the Orange Street News, she answered, "You're going to have to find that out by reading it."
Hilde's mother, Bridget Reddan, also responded to the observers who have questioned her parenting skills.
"I think it's a testament to good parenting that we let Hilde pursue her passion," she said, rejecting the notion that she's a "stage mom."
Reddan noted that Hilde's journalism work is supervised.
"There was somebody that e-mailed with a very complicated story about child abuse," she said. "And, you know, not only was the story too complex, really, for Hilde to handle in terms of government agencies and things, we just really felt like the subject matter was not appropriate for her."
"You know, some people just don't realize she's 9, either, when they e-mail," Reddan added.
After the interview was broadcast on Sunday, a viewer asked if Hilde was named after the Hildy Johnson character in "His Gal Friday," the famed movie set in the world of newspapering.
In a follow-up with Reddan, she said no: "I wish that we were cool enough to have named her after the character in 'His Gal Friday!' It would have been perfect. But no, I just really loved the name. Hilde has since watched the movie and has a giant poster in her room."