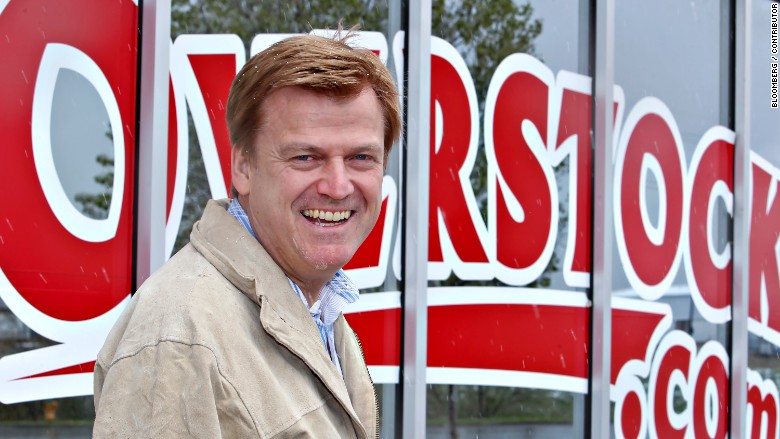 Patrick Byrne, the mercurial CEO of Overstock.com, says that he is taking a leave of absence. It's unclear when -- or if -- he'll return.
Byrne said he contracted Hepatitis C in 1984 in Xinjiang, an autonomous region of China, "when a barefoot doctor sewed up a head wound under less-than-ideal conditions." He says he finished treatment and thinks he can beat the disease, "but only time will tell."
Hepatitis C can lead to long-term health problems, including liver cancer.
In his statement about his leave of absence, Byrne quoted the character Chief Dan George in the Clint Eastwood movie "Outlaw Josey Wales": "I myself never surrendered. But they got my horse, and it surrendered."
Byrne is no stranger to health problems. When he was 22, he was diagnosed with testicular cancer that had metastasized throughout his body. He has had multiple recurrences and complications.
Despite those challenges, Byrne built Overstock.com (OSTK) into a sizable e-commerce power player. Overstock is perpetually profitable, bringing in $1.7 billion in sales in 2015. This year, the company anticipates $40 million in profit, before taxes.
Byrne has made news less for his acumen as a business leader and more for his quirky interests and passions.
In 2013, Overstock became the first major U.S. retailer to accept the digital currency Bitcoin. Byrne said that he was concerned about the possibility of "bad currency wars" in the future. He said the U.S. dollar is being undermined by the Federal Reserve's money policies and by overspending by politicians in Washington. He said he prefers gold to dollars.
Byrne also has gone on a decades-long rampage against naked short-selling, a controversial tactic used by Wall Street investors to place bets against a company's stock. Naked short selling takes place when a trader never actually borrows the stock he or she is shorting.
On its website, Overstock describes Byrne as "a leading voice in a growing movement convinced that powerful interests on Wall Street are destroying American companies for profit -- robbing investors and destabilizing our financial system in the process.
Byrne helped Overstock shareholders file two lawsuits in 2006 and 2007 against naked short-sellers.
Taking over for Byrne as acting CEO will be Mitch Edwards, former CEO of BitTorrent and Skullcandy. Edwards has served as general counsel of Overstock.com for the past six months.
"Mitch is an outstanding full-spectrum entrepreneur who has serving as our general counsel for six months and has learned our business, and understands our efforts to revolutionize the capital markets," Byrne said.