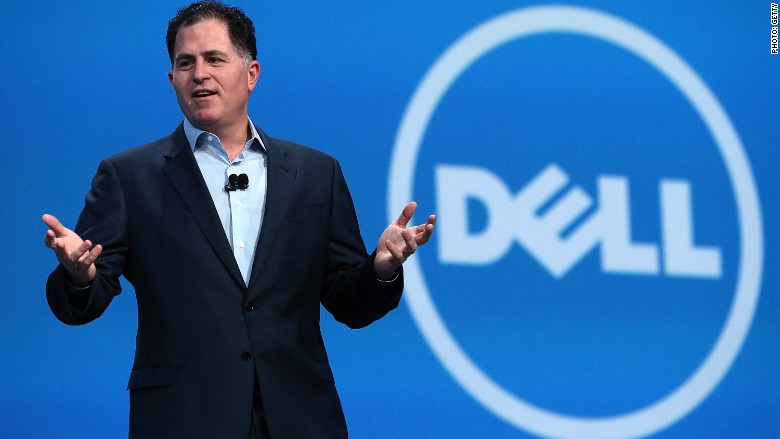 The deep freeze in the tech IPO market may finally be melting -- thanks to Michael Dell.
SecureWorks, Dell's cybersecurity business, filed plans this week to raise as much as $157.5 million in an IPO. The deal could value the Atlanta-based company that has 4,200 clients at nearly $1.5 billion.
It would represent the first tech IPO of 2016. Exactly zero tech companies went public in the first quarter of this year, too scared to try and sell shares just as the stock market had its worst start to the year on record.
It was the first time that there's been no tech IPO in the first quarter since 2009, when the U.S. was in the throes of the Great Recession. The rest of the IPO market didn't fare much better, with only a handful of biotech companies going public.
But markets have calmed considerably since mid-February and SecureWorks appears brave enough to test the waters. SecureWorks, which was founded in 1999 plans to list its shares on Nasdaq under the ticker "SCWX."
It could be a key test of the IPO market and of investor demand for cybersecurity stocks, which have experienced volatility of late.
"It's a dry spell but finally it looks like the market is opening up," said Kathleen Smith, principal at Renaissance Capital, which manages IPO-focused ETFs.
Related: No tech firms went public in the first quarter
Other IPOs are also lined up. Later this week Bats Global Markets is expected to attempt a redo on its disastrous 2012 IPO. Technical glitches infamously ruined the electronic stock exchange's previous attempt.
The big IPO highlight could be MGM Growth Properties, a real-estate investment trust backed by MGM Resorts International (MGM). MGM Growth Properties owns Las Vegas resorts such as Mandalay Bay and The Mirage. That IPO is expected next week and could raise as much as $1.2 billion.
The SecureWorks IPO is arriving as Dell is trying to close its huge $67 billion takeover of EMC (EMC), the biggest tech deal of all time.
SecureWorks said it plans to use the proceeds to help its own business, not Dell's. Still, a successful IPO would create additional asset value for Dell, which will own a majority of SecureWorks stock. That's importance since Dell is mostly using debt to fund this mega buyout.
"Bottom line, this improves the financial situation of Dell," said Smith.
Related: Is this a sucker's rally?
SecureWorks should attract investor demand because it's in cybersecurity. This has been a hot area on Wall Street due to a wave of high-profile hacks on everyone from dating site Ashley Madison and Sony (SNE) to the federal government.
But many cyber stocks that have debuted in recent years are struggling. For instance, both FireEye (FEYE) and Rapid7 (RPD) skyrocketed after going public but are now trading below their IPO prices.
"Everybody likes cybersecurity but these names have been on a rollercoaster ride," said Smith.
It's important to note that SecureWorks has far lower profit margins than companies like Rapid7 and CyberArk (CYBR) because it's not a software maker. Instead, SecureWorks manages equipment for clients and tries to keep hackers out. That helps explain why SecureWorks has been unprofitable each of the past three years despite strong revenue growth.
"It has a solid business model but the main challenge is it's not making money," said Smith.