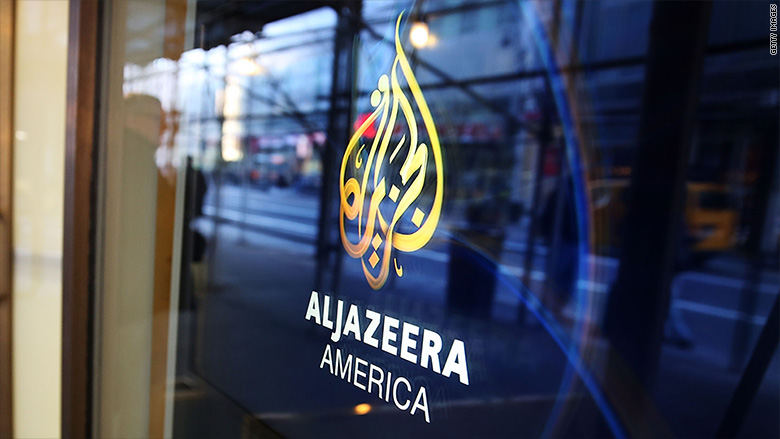 As Al Jazeera America approached its final day, the signage adorning its offices near Penn Station acted as an unofficial countdown clock.
On Monday, some of the "Al Jazeera" letters were still on the building. But by Tuesday afternoon, the name was erased and only the holes for the bolts were visible.
At midnight, AJAM's broadcast operations vanished, too.
Last week, the channel began airing highlights from the two-and-a-half years of the channel's existence. AJAM aired its final live broadcast on Tuesday evening with a three-hour retrospective showcasing some of its standout reporting.
Richelle Carey, an anchor who has been with AJAM since its launch in 2013, ended the broadcast with a message of gratitude to viewers and readers.
"To those of you who have supported us on air and online, we thank you for allowing us to tell your story," she said.
Carey delivered the closing message from the AJAM newsroom, which was filled with staff members.
The retrospective was to replay until midnight when AJAM fades to black.
With employees from all of the bureaus in town to take in the festivities, AJAM's Manhattan headquarters resembled something like a high school reunion this week.
There was a group photo in the newsroom on Monday that was followed by applause. On Tuesday, breakfast was catered and Chinese food was brought in for lunch.
The combination of nostalgia and uncertainty about the future created an atmosphere of mixed emotions. One employee described the mood on Tuesday as "about 50% fun and celebratory and 50% somber and tears."
Related: Al Jazeera America goes dark and CEO reflects: 'I believe we succeeded'
Staff members circulated poignant farewells through AJAM's internal email system. They posted photos on a private Facebook page to memorialize the conclusion of each AJAM program.
Following the live retrospective broadcast on Tuesday night, employees gathered for a party at Studio 450, a rooftop event space typically rented out for weddings and bar mitzvahs.
The question on the minds of many staffers: Will there be booze? Previous AJAM celebrations had been dry at the request of the channel's Qatar-owned parent company. (Alcohol was available.)
Related: Al Jazeera announces 500 job cuts
But most employees had more pressing concerns than cocktails. After AJAM goes dark on Tuesday, some 700 people will be without a job.
Some have already landed positions at other networks, while others are arranging freelance work. For many more, the job hunt continues.
"There's a lot of anxiety because a lot of people don't have jobs," one newsroom employee said.
Those who remained until the very end had a compelling reason to stay. AJAM promised double pay to staff members who stayed on board for the channel's final three months. They were also entitled to two months of severance pay and healthcare coverage for a year.
When AJAM launched in 2013, it was advertised an an antidote to the rancorous and lowbrow news coverage of other American outlets. But only about 20,000 viewers tuned in on a typical day, which contributed to the decision by Al Jazeera's owners in Qatar to pull the plug.
Related: The final days of Al Jazeera America
When the morning news team wrapped its final broadcast on Tuesday, they were addressed by AJAM's top two executives: Kate O'Brian, the channel's president who has been there since launch, and CEO Al Anstey.
O'Brian told those staffers that AJAM, with its priority on quality journalism over ratings, would be discussed in journalism schools for years to come.
"We all got to be here," O'Brian said.
Many at AJAM shared O'Brian's pride on the final day, but those feelings were tempered. As one employee put it, the channel "never really got anywhere."