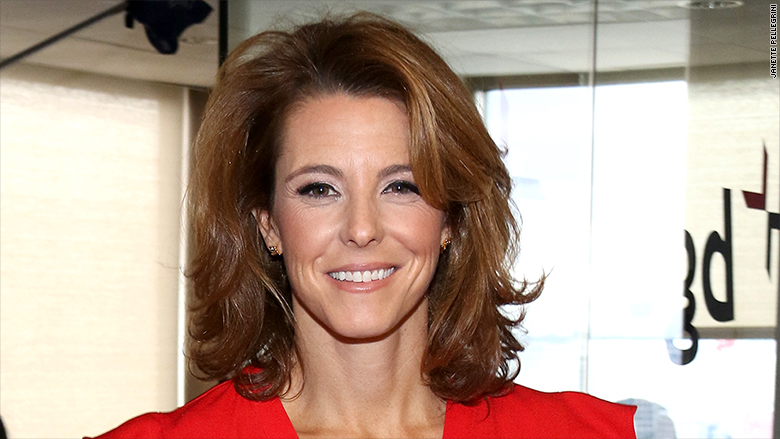 Stephanie Ruhle, one of the most beloved anchors at Bloomberg TV, is leaving to join MSNBC, sources at both networks told CNNMoney.
Ruhle will join the network in May as a daytime anchor, though her time slot has yet to be determined. She will also appear on NBC News programming.
Ruhle's hire, which was first reported by The New York Post, is part of MSNBC's effort to rebrand as a hard news channel in daytime. To that end, the network recently rebranded all but one of its daytime shows -- Andrea Mitchell Reports -- under one title, "The Place for Politics," meaning Ruhle will not host her own branded show.
The move is a blow to Bloomberg TV, which has lost a slew of talent in recent years, including Olivia Sterns to NBC, Margaret Brennan and Julianna Goldman to CBS, Linzie Janis to ABC, Trish Regan and Deirdre Bolton to Fox Business.
Ruhle, 40, spent 14 years working in the finance industry -- including as a managing director at Deutsche Bank -- before joining Bloomberg in 2011. She is the co-host of Bloomberg GO, the network's three-hour weekday morning show.
"After 19 years of my life covering and working in the financial markets, the past four years at Bloomberg have been the most rewarding," Ruhle said in a statement. "It has been a true honor to wear a Bloomberg badge and this credential has been the passport to sit across from some of the greatest titans of industry including Mike Bloomberg, the visionary behind this extraordinary company."
"In an industry rooted in risk taking, I thank Mike and his team for taking a chance on me," Ruhle said. "I'm incredibly honored to be one of the few journalists who could say that their dream interview would be 'my boss.' I didn't just get to cover business, I've had the unique opportunity to work for and with the best in business."
Amanda Cowie, a Bloomberg spokesperson, said they were "very sorry to see Stephanie go, but understand her desire to dive into new subjects."
MSNBC has yet to issue a formal announcement on Ruhle's hire.
Spurred on by the 2016 campaign, MSNBC has seen significant growth in recent months. It was up 133% year-over-year in the 25-to-54-year-old demographic in the first quarter of this year, making it the network's strongest quarter in three years.