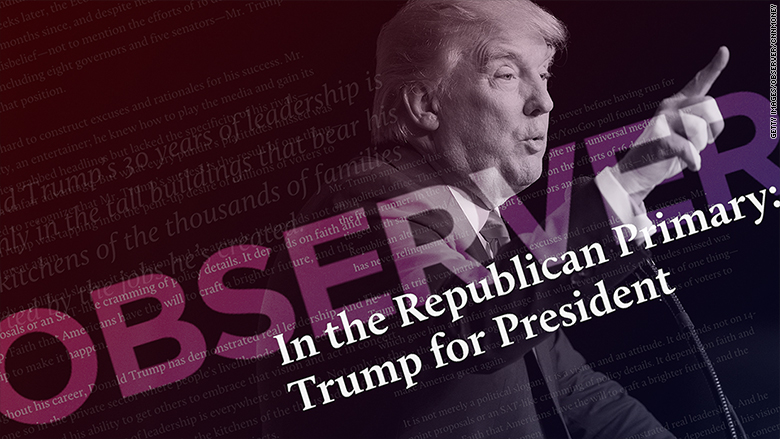 A day after Donald Trump picked up an endorsement from the New York Observer, the weekly newspaper lost one of its top reporters.
Ross Barkan, the national political reporter at the Observer, announced Wednesday that he is leaving the paper over concerns with its coverage of Trump.
"I knew going into this there would be complications with covering Donald Trump and working for the New York Observer," Barkan told CNNMoney. "I did not imagine that the events would transpire the way they did."
The Observer, which is owned by Trump's son-in-law, Jared Kushner, has been the subject of growing scrutiny over the last month due to its ties to the Republican presidential frontrunner.
Kushner helped write the speech that Trump delivered last month before the American Israel Public Affairs Committee (AIPAC). Ken Kurson, the editor-in-chief of the Observer and a former speechwriter, read the speech and provided feedback to Kushner.
After those details surfaced, the Observer issued a statement saying it was "re-visiting" its policy on Trump coverage, and that no editorial staffer would give input to the Trump campaign.
Barkan said the controversy over the speech was a demarcation point in his tenure at the Observer.
"The AIPAC moment was very concerning for me," he said. "I did not imagine that my editor-in-chief would be viewing a Trump speech before it went public."
Related: New York Daily News endorses Hillary Clinton before New York primary
Barkan, 26, made it clear that he had been wrestling with a potential job change for weeks. He said he did not want to "denigrate" the Observer, where he has worked for the last three years, and that he maintains "a lot of respect" for Kurson.
But the tension over the paper's Trump coverage "has not helped," Barkan said. He informed Kurson of his decision in a "polite email" on Tuesday night.
Kurson and Kushner did not respond to requests for comment.
The Observer is a very different paper than it was in 2006, when Kushner bought it for about $10 million. For years, the small weekly commanded influence with its cheeky and subversive coverage of New York's most powerful -- including Trump.
But the Observer has clearly shifted to the right under Kushner's leadership. It endorsed Mitt Romney over Barack Obama in 2012, and its endorsement of Trump on Tuesday was hardly a surprise to most.
In its endorsement of Trump, the Observer's editorial writers addressed the paper's connection to the candidate at the outset of the piece.
"Donald Trump is the father-in-law of the Observer's publisher. That is not a reason to endorse him," the editorial read. "Giving millions of disillusioned Americans a renewed sense of purpose and opportunity is."