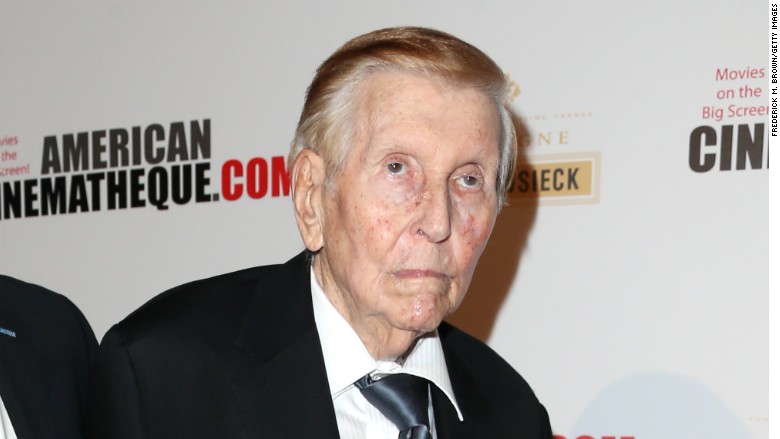 Sumner Redstone's ex-girlfriend filed a fresh motion Wednesday to have the ailing billionaire be deposed in a court battle over who should control his health care decisions.
The motion was filed days after a proposed settlement with Manuela Herzer collapsed. The dispute is now headed to a trial.
Redstone, 92, is believed to be in poor health and has difficulty speaking. His lawyers have fought efforts to have him deposed, and he has been exempt from issuing a formal statement due to privacy and health concerns.
But Herzer's lawyer noted in the court documents filed Wednesday that Redstone's legal team lists him as a possible witness for the scheduled trial.
If Redstone, the former chairman of Viacom (VIA) and CBS (CBS), is going to be a witness, Herzer's lawyer argue that he should be subject to trial discovery rules and allow him be deposed ahead of time.
The trial is scheduled to start in three weeks.
Related: Sumner Redstone's health care decisions now in daughter's hands
Both sides are due in court Thursday for a hearing over whether to grant the deposition request.
Herzer is seeking to retake legal control over the aging media mogul's health affairs, which she assumed while the two were in a relationship. She's asking a Los Angeles county court to rule that Redstone was not mentally competent enough to sign a document that took away her decision-making power.
A document filed by Herzer's legal team on Wednesday points to "recently discovered" evidence as the reason for the breakdown in negotiations.
The evidence is an April 2015 email that suggests attorneys representing Redstone and Viacom had concerns that a 2015 Vanity Fair article could lead to Redstone's "current condition" becoming public.
The email, which appears to be written by attorney Adam Streisand, says a Viacom attorney voiced concerns to Streisand that, should Redstone's condition be made public, "Viacom will have to remove Sumner as an officer/director and stop paying him compensation."
Redstone resigned from his positions as chairman of CBS and Viacom in February, although he remains chairman emeritus at both companies. That was after lawsuits were filed against the companies alleging their board members put Redstone's interest ahead of shareholders.
Herzer stood to inherit millions from of Redstone's fortune and his mansion in California before Redstone broke off their relationship last October. That's also when he replaced Herzer with Viacom CEO Philippe Dauman with responsibility for his health care.
Dauman has since been replaced by Redstone's daughter Shari Redstone.
On Wednesday, one of Herzer's attorneys, Pierce O'Donnell said in a statement that although settlement negotiations have been halted, they will continue to seek an agreement.
"We have hit a snag in the documentation. It is not over monetary issues," O'Donnell said. "We remain hopeful that we can resolve our differences. A settlement is in everyone's best interests. But if we have to go trial, we look forward to it."
Sumner Redstone's legal team could not be immediately reached for comment.