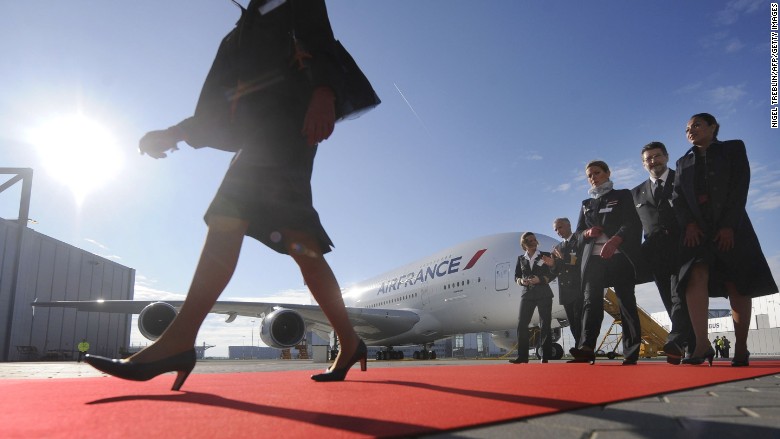 Air France is in hot water again over plans to resume flights to Iran this month.
More than 10,000 people have signed an online petition calling on the airline to allow gay cabin crew members to opt out of flights to Tehran, which are due to resume on April 17. They say airline staff should not be forced to fly to a country where homosexuals are persecuted and could face the death penalty.
Just last week, Air France (AFLYY) bowed to union pressure and agreed to allow female air hostesses and pilots to opt out of flights to Iran if they have concerns about the country's strict dress code.
Laurent M., who initiated the petition, wrote: "For moral reasons ... it is inconceivable to force someone to go to a country where his kind are condemned for who they are."
Air France said it has no plans to change policy in this instance. The airline already flies to nearly 20 other countries that have "restrictive legislation relating to homosexuality," including Saudi Arabia, Egypt, India and Nigeria, it said in a statement emailed to CNNMoney.
"We have not had any issues in recent years in [these] countries," it added. "Air France management carries out constant monitoring to ensure that all members of its flight crews can perform their duties in the safest possible conditions."
Lufthansa (DLAKY) has been flying to Iran for years. A spokesperson for the German carrier told CNNMoney it has never heard about any staff concerns related to homosexual persecution in Iran.
Related: Boeing works to drum up business in Iran
Iran is staging a big economic comeback after global powers agreed to lift sanctions that had kept the country isolated for many years. The removal of sanctions was part of a deal designed to prevent Iran from obtaining a nuclear weapon.
However, Air France's latest headache illustrates the kind of tensions that can arise as Western companies try to do business with the country.