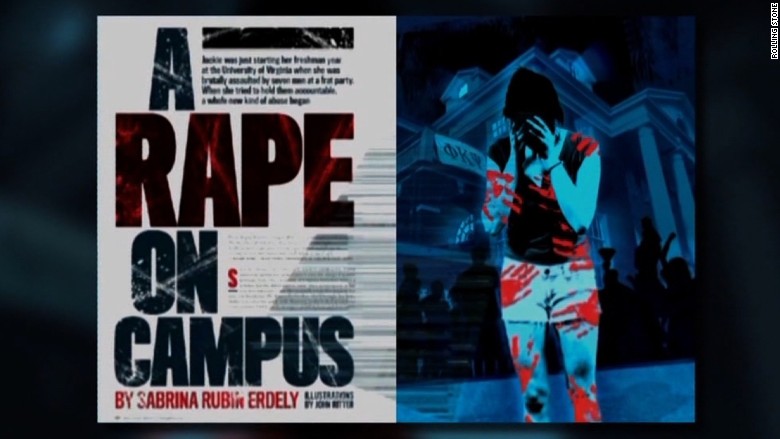 A lawsuit over Rolling Stone's discredited story about an alleged frat house gang rape has set off a bitter war of words between two women at the center of the saga.
The latest shots were aimed at University of Virginia administrator Nicole Eramo who was accused by "Jackie," the woman who claims she was the victim of the gang rape, of making "offensive, harmful, and untrue statements" in court and in the press.
"Dean Eramo should be ashamed of herself for her treatment of [Jackie], and for the impact her statements will have on all sexual assault victims, especially those at the University of Virginia," Jackie's lawyers said in the documents.
Eramo is suing Rolling Stone over the way she was depicted in the 2014 story, "A Rape on Campus," that set off a national firestorm before unraveling under scrutiny.
The scathing court document filed by Jackie's attorneys this week came in response to a motion filed by Eramo on March 29, asking the court to strike "personal attacks" purportedly made by Jackie in court filings.
Related: 'Jackie' of Rolling Stone's discredited rape story testifies under oath
"It appears that Dean Eramo takes issue with anyone who expresses a negative opinion of her," Jackie's motion said.
Jackie's attorneys called it "ironic" that Eramo asked the court to toss out "truthful statements that [Jackie] has been forced to make to defend herself."
"Yet Dean Eramo fails to identify a single such statement that she seeks to have stricken from the record," the motion continued.
The motion said that Eramo appears to take issue with a series of "uncontested facts" raised by Jackie, including a letter from the National Organization of Women denouncing Eramo's treatment of Jackie and an unflattering conclusion by the the Office of Civil Rights on Eramo's handling of sexual assault reports at UVA.
"[Jackie] is not surprised Dean Eramo would rather these facts not be publicized further," the motion said.
Related: Rolling Stone fights libel suit stemming from discredited rape story
The Rolling Stone story about the alleged rape quickly fell apart after it was published, and police in Charlottesville, Virginia, ultimately found no evidence that the rape occurred.
A report last year by Columbia University's Graduate School of Journalism found major failures in Rolling Stone's reporting on the story.
Jackie maintains that the rape did happen, and her attorneys have described her repeatedly in court papers as a "sexual assault victim."
Her lawyers opposed a subpoena for Jackie to be deposed as part of Eramo's suit against the magazine, arguing that the testimony could re-victimize their client. The judge presiding over the case didn't agree, and Jackie was deposed last week. All records and transcripts from the deposition have been sealed.
Eramo's attorneys have been highly critical of Jackie, calling her a "serial liar" in previous court filings. In the motion filed on Tuesday, Jackie's counsel singled out one of Eramo's attorneys, Libby Locke, for recent comments to the press -- including a statement provided last week to CNNMoney.
Locke, the attorneys argued, "both attacked [Jackie] and mischaracterized the facts of this case, all at the expense of [Jackie], a non-party, sexual assault victim."
Related: Rolling Stone sued by UVA frat members
In a statement to CNNMoney Thursday, Locke dismissed these accusations.
"Jackie's latest filing is just part of her lawyers' continuing pattern and practice of engaging in unprofessional ad hominem attacks. If anyone is to blame for mischaracterizing facts, it is Jackie and her lawyers," Locke said. "The facts of the case have been well documented -- both the Columbia Journalism Review and the Charlottesville police found no evidence to corroborate Jackie's alleged assault, only a series of lies and a continued pattern of non-cooperation by Jackie about the night in question."
An attorney for Jackie, Philip O'Beirne, declined to comment.