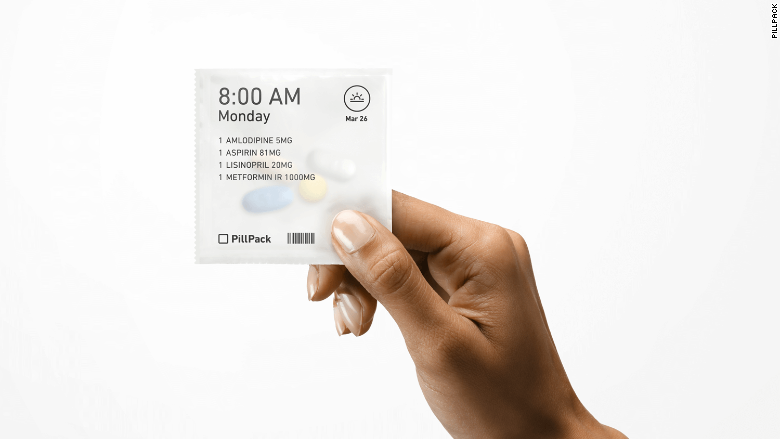 For Roger and Cathy Benedetti, PillPack is a literal lifesaver.
PillPack is a pharmacy for ongoing and chronic medications -- and makes them much simpler to manage. The startup sends a 14-day supply of medications, divided into daily packets -- at no extra cost, just the same copay.
PillPack does everything from dealing with insurance companies to handling refills. It then presorts and packages the medications for each person. It even analyzes the combination of medications a person is taking to ensure they don't counteract each other.
When the Benedetti's -- who live in New Jersey -- went to visit Cathy's parents in Florida, they were shocked at how many prescriptions the couple was taking.
"They were so overwhelmed," Roger Benedetti told CNNMoney. "It broke my heart."
Though in their 60s, Roger's inlaws take between 15 and 20 medications apiece to tackle everything from cardiac illnesses to bipolar disorder. He said that at times they were taking the brand name and generic versions of the same medication, unaware. They only discovered it when they signed up for PillPack.
Roger, who is a pharmacist, connected his inlaws to PillPack a year and a half ago.
But as of April 30, their access to PillPack will be cut off, along with thousands of other PillPack customers.
Related: Social media and mental health: 'We are more than our profile pictures'
That's because Express Scripts (ESRX), one of the largest prescription drug managers, is removing PillPack from its network. PillPack estimates this will impact a third of its customers.
Express Scripts, which counts 85 million people as patients, had been working with PillPack since the startup launched in 2014.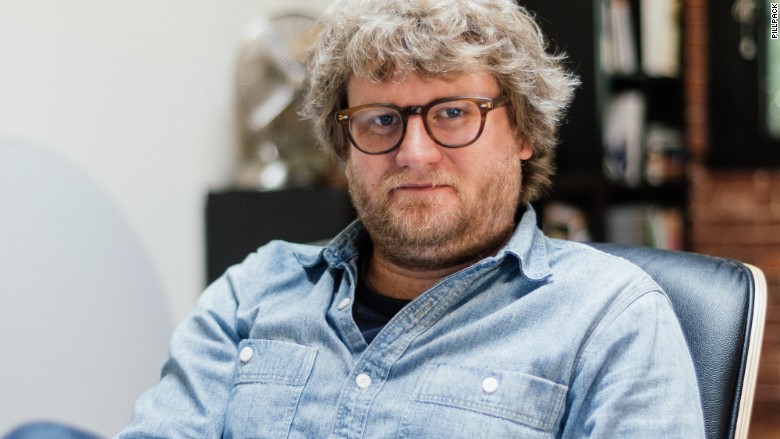 Express Scripts spokesman Brian Henry told CNNMoney that it's removing PillPack from its networks because it misrepresented itself. He said the company should be licensed as a mail-order operation, not a retail pharmacy.
But PillPack CEO and cofounder TJ Parker said the issue isn't regulatory -- that Express Scripts is running scared and cutting out a potential competitor, because it owns its own mail order pharmacies.
Henry would not comment on whether Express Scripts has any other pharmacy partners that primarily mail prescriptions.
Parker said he was upfront with Express Scripts about its business model and licensing. And it does have a pharmacy in New Hampshire.
"It's not a situation where we're skirting regulations. We've been fully compliant," Parker told CNNMoney.
Related: Anne Wojcicki: FDA shutdown was a 'transformative moment'
PillPack isn't taking the news sitting down: It launched a site called FixPharmacy.com and is also calling for people to take action in fighting Express Scripts' decision.
PillPack, which launched in 2014, has more than 200 employees and "tens of thousands" of customers. It's licensed in 49 states.
Parker contends Express Scripts has "decided that improving the system is too much of a threat to their existing business," according to a Medium post.
A trained pharmacist, Parker saw the need for PillPack as a teen delivering medications for his father, who owned a pharmacy in New Hampshire. He'd see piles of prescription pill bottles and people struggling to keep track of when to take what -- like the Benedettis.
Parker alluded to the difficulties facing health tech startups on a panel last week at TalkSpace's Future of Therapy conference.
"[One of the reasons] healthcare is so challenging and complicated is that you are reliant on lots of other stakeholders in the system to act, even if you're trying to build something for the consumer," said Parker.
For now, the Benedettis are trying to figure out next steps.
"It's because of PillPack that they're able to live their lives," said Cathy Benedetti, who is a nurse. "It sounds silly, but they're alive today because of it -- their compliance was that horrific."