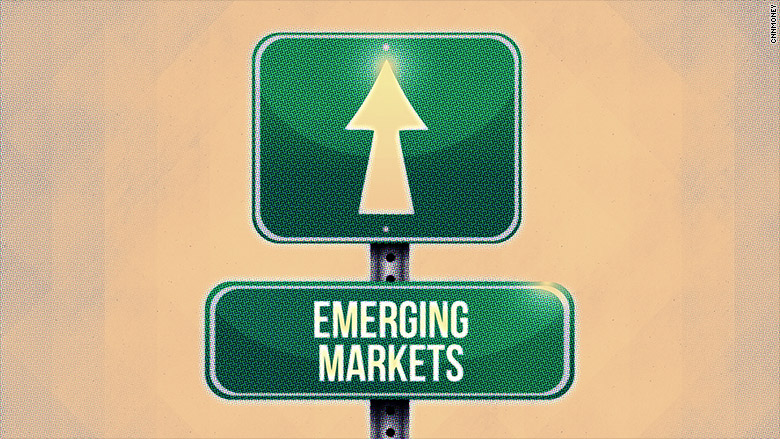 Emerging markets have had a lot of turbulence for a long five years.
Stocks in emerging markets were in the red for four of the last five years. The tide appears to be turning now.
One key stock index for emerging markets, the MSCI, is up 6.5% this year. That's far better that European markets and ahead of the recent turnaround in U.S. markets. Mexico, Brazil and South Africa's markets are up so far this year. Last year they were all down by double digits.
That's because many of the factors that led to the downturn are also starting to turn.
"The recent recovery after a miserable six months largely reflects a pickup of global risk appetite as concerns about the global economy have receded," says Charles Collyns, chief economist at the Institute of International Finance.
Many developing countries, such as Brazil and South Africa, depend on demand from China for their economies to grow. Since 2011, China's economy has been slowing down, hurting growth prospects in developing countries.
Crashing commodity prices and concerns about higher interest rates have exacerbated the flight of cash out of emerging markets in recent years. Investors pulled $750 billion out of emerging markets last year, according to the Institute of International Finance.
Related: Strong dollar rally loses momentum in 2016
Here is what has driven the comeback for emerging market stocks:
1. Prices for commodities like oil, iron and soy have stopped falling and have actually risen a lot. Oil prices are up 54% since hitting a low on February 11. Iron and copper prices are up this year too. This is great news for emerging markets, many of which depend on commodities to drive growth.
2. Fears have eased about China's economic slowdown and how much value its currency, the yuan, will lose.
3. Interest rates aren't rising as expected. That eases the pressure on developing countries, some of which have to pay off their debt in higher value U.S. dollars or euros.
4. The U.S. dollar rallied a lot against several currencies in emerging markets last year. In fact, now some those currencies are gaining value against the dollar in 2016.
Related: Yellen: global risks force Fed to move 'cautiously'
5. Another key reason is value. Emerging market stocks are cheaper than U.S. stocks. One key measure of value, the price-to-earnings ratio, is about 11.6 for the MSCI EM index. But the S&P 500 is trading at about 17.5 times forward earnings.
But the real question is whether the stock rally will stay or if it's just a short-term Cinderella story.
Concerns still loom about China's slowdown and the comeback in commodities is no sure thing. For example, leaders of the oil cartel OPEC are meeting this weekend to discuss oil production. If no concrete agreement comes out of the meeting in Doha, that could claw back some of the gains in oil prices.
Plus, the Federal Reserve still plans to raise interest rates this year, albeit more slowly than originally believed. Higher rates usually make it more expensive for developing countries and companies to pay back debt that must be paid in dollars.
The Institute of International Finance also believes there will be outflows from emerging markets of $500 billion -- less than last year.
Despite those concerns, some experts remain confident.
"We suspect that financial markets in the emerging world will continue to perform well," say John Higgins, chief markets economist at Capital Economics, a research firm.