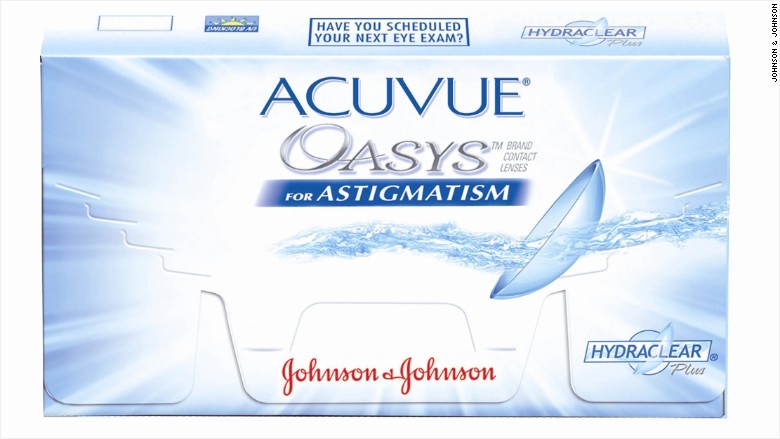 The world's largest contact lens manufacturer has dropped its minimum pricing requirements, paving the way for looming price wars.
Johnson & Johnson announced this week that it would discontinue its controversial unilateral pricing policy for its Acuvue brand contacts, a policy that has become the subject of a major court battle.
Discount contacts retailers, especially 1-800 Contacts, have fought hard against the mandatory pricing, arguing that contact lens prices could be as much as 35% lower if those minimums were given the boot.
Utah passed a law last year banning minimum prices on contacts. Johnson & Johnson and smaller rivals Alcon and Bauch & Lomb filed a lawsuit to block Utah's bill. The 10th Circuit federal appeal court is expected to rule on the motion later this year.
Anticipating a loss, Johnson & Johnson decided to replace its pricing policy with a rewards program that patients can use only at their doctors' offices -- not from discounters
Lens manufacturers like when customers buy contacts from their eye doctors, who are up-to-date on the latest products and can introduce patients to new brands.
Johnson & Johnson argues that eye doctors are the most qualified to assign the best treatment for patients' eyes. Discount retailers, such as 1-800 Contacts and Costco (COST) can't do that.
"The patient comes first," said Millicent Knight, head of professional affairs for Johnson & Johnson's vision care business. "We believe that it is in the best interest of the patient to see an eye doctor on a regular basis, and we will continue to advocate state by state to protect that relationship."
But contact lenses can be expensive, and discounters tend to undercut the prices at doctors' offices. The majority of contacts are still sold by doctors, but discount retailers are growing their share of the business.
After the 10th Circuit court allowed the Utah law to be enacted, 1-800 Contacts said it dropped some contact prices by as much as $15 per box.
If Johnson & Johnson can't force retailers to set a certain price for contacts, it believes the new rewards program will incentivize patients to buy from their doctors.
"Our evolved strategy is still grounded in delivering meaningful innovation to meet patients' needs while also improving patient affordability and access," said Peter Menziuso, president of Johnson & Johnson's North American vision care unit.
Johnson & Johnson (JNJ) has about a 40% share of the contact lens market, according to CLS Spectrum