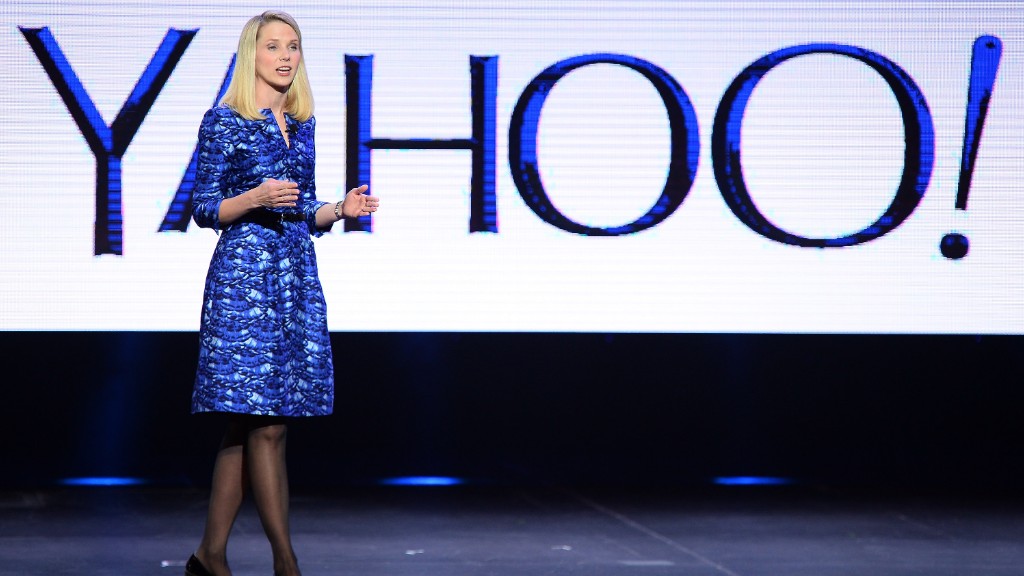 Can you hear me now, Yahoo?
Monday is the deadline for interested parties to submit bids for Yahoo (YHOO). And according to several reports, it looks like Verizon (VZ) is expected to make an offer -- and that it should be considered one of the frontrunners.
Verizon CEO Lowell McAdam and CFO Francis Shammo have both mentioned on numerous occasions in media interviews and at investing conferences during the past few months that the company would be interested in Yahoo.
Verizon has already shown a willingness to acquire Internet companies, plunking down $4.4 billion last year to buy AOL. Verizon also scooped up ad tech firm Millennial Media last year for about $250 million.
And AOL CEO TIm Armstrong, like Yahoo chief Marissa Mayer, is a former Google (GOOGL) executive.
It's unclear if Mayer would stick around (or be asked to stay) if Verizon bought Yahoo.
Many analysts expect that she won't. But there is at least a history between Mayer and Armstrong -- who has reportedly been put in charge of exploring a merger -- that could make a Verizon-Yahoo deal easier to pull off.
Related: Marissa Mayer could get huge payday if Yahoo is sold
Why would Verizon want Yahoo? The same reason it bought AOL and Millennial Media.
Digital advertising is a lucrative business that can help make Verizon more like a sexy tech stock and less of a stodgy widows and orphans telecom that is mostly attractive for its huge dividend.
Google and Facebook (FB) dominate the online ad business now. But Verizon could become an even more significant player if it scooped up Yahoo and combined assets like AOL's Huffington Post and TechCrunch with Yahoo Finance and Yahoo Sports.
"Yahoo isn't the company that it once was, but there are still some valuable pieces. Verizon buying it does make sense," said Mark Rogers, founder and CEO of BoardProspects.com, a firm that helps companies find qualified board members.
There is a sense of urgency here. Yahoo will release its first quarter results on Tuesday afternoon. They are not going to be pretty.
Analysts are expecting that Yahoo will report a 12% drop in sales for the quarter and that profits plunged by more than 50%.
Yahoo's ballyhooed (say that five times fast) stake in Chinese e-commerce company Alibaba (BABA) has failed to significantly change its fortunes either. Presumably, Verizon (or another strategic buyer) would not want to purchase Yahoo's Alibaba shares.
So it will be interesting to see if executives give any details about any of the bids.
Related: Mayer would likely be toast if Yahoo is sold
It's possible that Yahoo's board could decide that it still wants to go it alone -- or seek a private equity buyer that would keep the existing management team in place.
But that might be suicide. Wall Street and Silicon Valley clearly seem to think that Yahoo doesn't have a viable future as a stand alone company.
Google owner Alphabet, cable giant Comcast (CMCSA), Barry Diller's IAC (IACI) and Time Inc. (TIME) (formerly part of CNNMoney parent Time Warner (TWX)) have all reportedly dropped out of the bidding war for Yahoo. There may not even be a skirmish anymore, let alone a war.
Eric Jackson, managing director of SpringOwl Asset Management, a New York-based hedge seeking big changes at Yahoo, said Alibaba or SoftBank, a Japanese tech giant that owns a stake in Yahoo Japan, could be wild cards in the Yahoo sale process.
But he thinks that Verizon has the best chance of being the winner.
"As a Yahoo shareholder, I am most interested in a Verizon bid. I think they will be able to pay the most for the core business," Jackson said.
Yahoo has been a comeback story for years. It ain't happening. And that's not entirely Mayer's fault. She wasn't dealt the best of hands. Several CEOs before her were unable to turn Yahoo's signature purple into green.
That's why Yahoo may find itself with no choice but to pickup the phone if Verizon calls with a takeover offer. Yahoo is running out of options. And time.