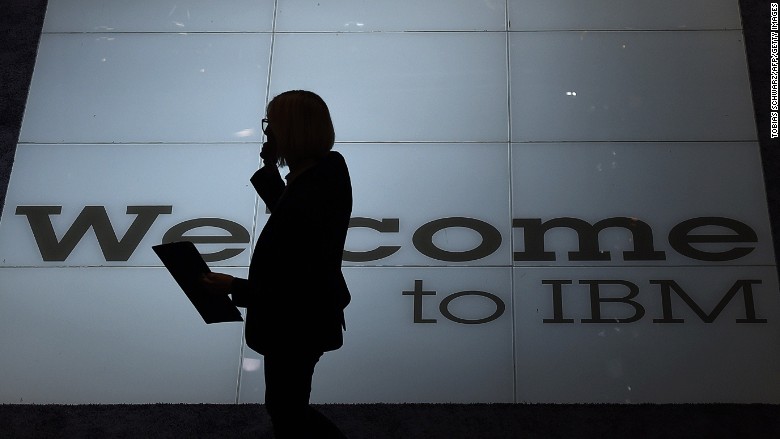 Big Blue isn't so big anymore.
IBM's long decline hit a new milestone this week when it posted a 14-year low in quarterly sales. IBM (IBM) stock slumped 6% in response, its biggest decline in six months.
It's the latest sign of an elusive comeback at the iconic tech company, that is still shrinking despite CEO Ginni Rometty's four year efforts to right the ship.
IBM, which turns 106 years old in June, is trying feverishly to adapt to the changing times in the industry. IBM was slow to catch onto the cloud boom that is eating into its core server business. But now it's investing heavily in the cloud as well as analytics, most notably through the creation of IBM Watson.
Related: IBM wants Watson to ask us questions
Worst sales since 2002: But IBM's traditional businesses are bleeding a lot faster than its new ones are growing. Cloud, analytics and engagement sales jumped 14% in the first quarter. However, hardware revenue plunged 22%.
It's the chief reason behind IBM's overall sales declining for 16 consecutive quarters to $18.7 billion in first quarter. It was weakest level since early 2002, according to FactSet. It's down from a recent peak of $29.3 billion in 2012.
Related: The last time IBM's sales rose...
IBM stock left in the dust: IBM's stock slump leaves the Dow member down 22% since Rometty took over in the beginning of 2012. That's pretty bad considering the S&P 500 is up an impressive 67% over that span.
Shares of Microsoft (MSFT), another tech company that was struggling to adapt to the changing times, have soared 117% since 2012. Even Intel (INTC), a hardware company with problems of its own, is up 30% in that time period.
Shrinking workforce: As you might have guessed, IBM's been forced to adjust to the sales slowdown by cutting jobs. IBM employed 434,246 people when Rometty took the top job. It's headcount is now down to 377,757, according to filings.
The good news for IBM shareholders (and Rometty) is the company still has a very powerful backer: Warren Buffett. Berkshire Hathaway (BRKA) is IBM's biggest shareholder, owning 8.4% of the outstanding shares as of the end of 2015, according to FactSet.
Buffett told CNBC earlier this year he thinks IBM will be worth more in five to 10 years, though even he admitted that's not a sure thing. "I could be wrong but we'll accept that," he said.