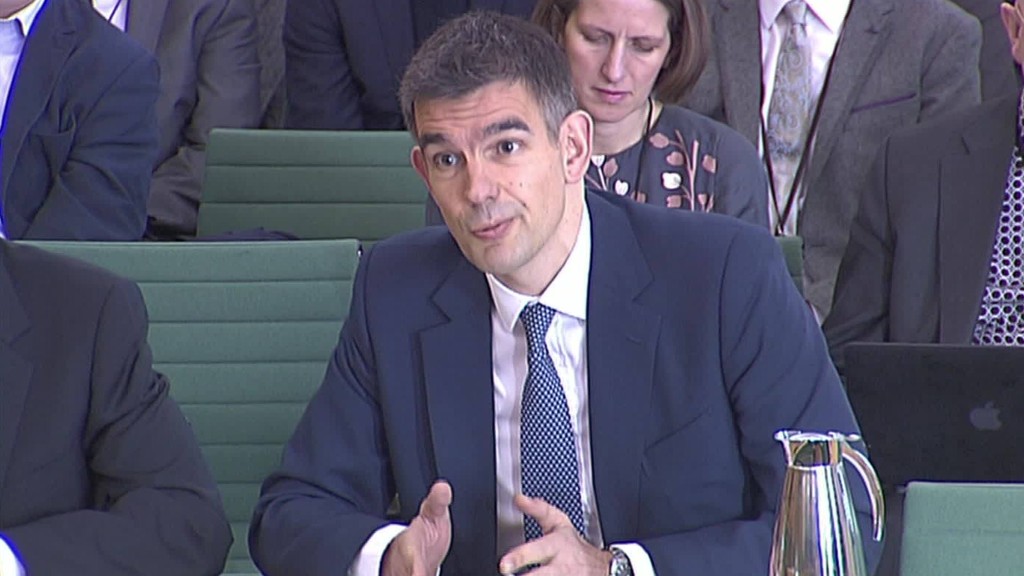 The system for paying top executives is broken and some are being rewarded for failure.
Bernie Sanders' latest criticism of corporate excess? No.
Those are the views of a group of experts who were asked by leading investors to review executive pay at Britain's top companies.
The Investment Association, which represents 200 firms including Blackrock (BLK) and Fidelity Investments, helped set up the panel last year.
"The current approach to executive pay in U.K. listed companies is not fit for purpose, and has resulted in a poor alignment of interests between executives, shareholders and the company," said Nigel Wilson, who chaired the group. Wilson is CEO of financial services firm Legal and General (LGGNY).
"Failure has sometimes been rewarded," he added.
Executive pay in the U.K. has more than trebled over the past 18 years, opening up a huge gap over average employee salaries and far outpacing stock market performance.
The High Pay Centre estimates that the CEOs of Britain's top 100 companies now make more than 180 times average earnings.
Public anger over bumper pay deals has been rising again, and investors are also becoming impatient with company boards.
BP shareholders voted last week against a 20% hike in CEO Bob Dudley's pay package to $19.6 million for 2015, when the oil company posted a huge loss. Dudley will still get his cash because the vote wasn't binding on the company -- shareholders only get a real vote on company pay policy every three years.
But experts warned last week that the government could step in with new laws if companies didn't listen carefully to the message they were being sent.
"If the will of shareholders in cases like this is ignored, it will only be a matter of time before the government introduces tougher regulations on executive pay," said Simon Walker, head of the Institute of Directors.
Anglo American (NGLOY) was heading for a similar showdown with its investors Thursday. Several investment firms were expected to vote against the pay deal for its CEO. The mining company posted a loss of $5.6 billion in 2015 and suspended dividend payments.
There have been several attempts at reform, but Wilson said another overhaul was needed to simplify the system and make it more flexible.
Executive pay needs to be more closely linked to company performance, long term strategy, creating value for shareholders, the interests of other employees and wider corporate and social goals, he said.