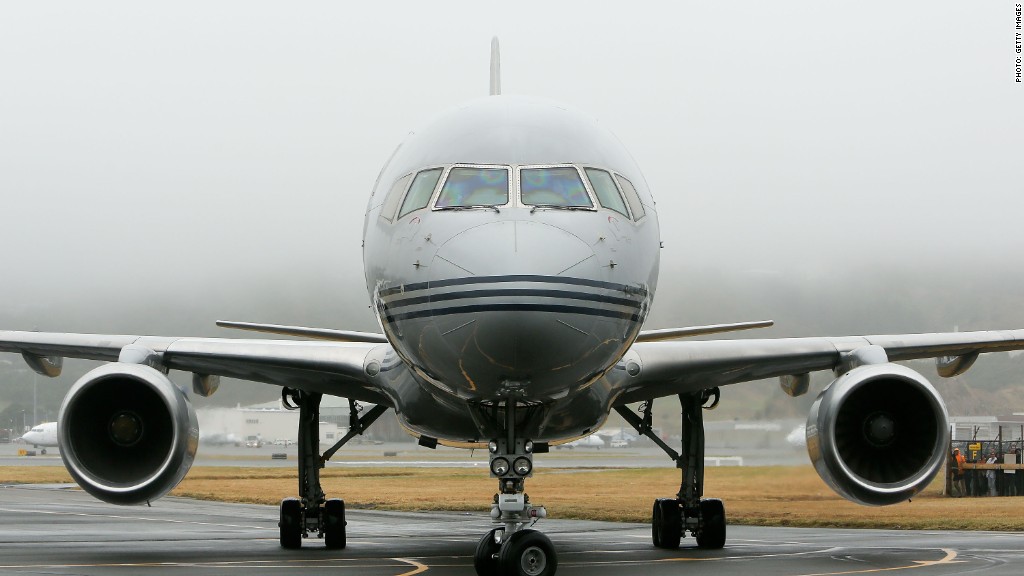 United Continental has hit a pretty big air pocket.
The airline's stock plunged more than 10% Thursday due to concerns about its outlook for the second quarter.
United also reported a profit for the first quarter that was down 38% from the same period last year -- although that did top Wall Street's low expectations.
CEO Oscar Munoz tried to reassure analysts during the company's conference call that United would soon regain altitude. But many analysts were unimpressed.
JPMorgan analyst Jamie Baker said that the company's guidance was "pretty unimpressive" and wondered if United needed something "more radical" to become more competitive.
Darryl Genovesi of UBS asked if United could give Wall Street more reassurance about how quickly it planned to get revenues growing more consistently again.
And Hunter Keay of Wolfe Research told Munoz that investors are openly skeptical of the company's claims that it will get a key measure of revenue growing again.
Related: United Airlines and union agree to 30% wage hikes over five years
"The market doesn't appear to believe you. Your stock has sold off more since you projected that. It has been one step forward one step back with United for the last four years," he said.
Yikes! No sycophantic "Good quarter, guys!" comments here.
It's been a rough couple of months for United (UAL).
Jeff Smisek stepped down as CEO last September due to accusations that United was seeking favorable treatment from the Port Authority of New York and New Jersey.
Shortly after taking over as CEO, Munoz suffered a heart attack and subsequently received a heart transplant. He returned to work last month.
United is also in the midst of negotiating new contracts with its flight attendants and machinist unions.
Topping it off, two activist investment firms threatened to try and shake up the company's board at its next shareholder meeting.
Related: United Continental chairman to step down
The hedge funds ended their feud with United on Wednesday after chairman Henry Meyer and two other board members agreed to step down before United's next shareholder meeting.
Whew!
JPMorgan's Baker conceded to Munoz that there's a lot for him to tackle.
"Nobody is accusing you of not having a full plate here," he said.
But investors apparently aren't so sympathetic. United has continued to lag its rivals. The stock is now down 9% this year while the US Global Jets ETF (JETS), which holds all the major carriers, is up slightly.
Alaska Air (ALK) -- which plans to buy Virgin America (VA) -- and Southwest (LUV) also reported earnings on Thursday that were more impressive than United's. Lower oil prices have been a boon for most big airlines -- including United.
But investors want more proof that United, which has now been struggling for years following its merger with Continental, can turn things around more quickly.
That's not likely to happen. Munoz said he was not going to make promises he couldn't keep just to satisfy Wall Street..
"What I don't want to do is commit on these calls the thing that the market wants," he said. "So if you will allow me a little more patience, now that we're getting back to work, we will talk a little bit more about this in June. Thank you."