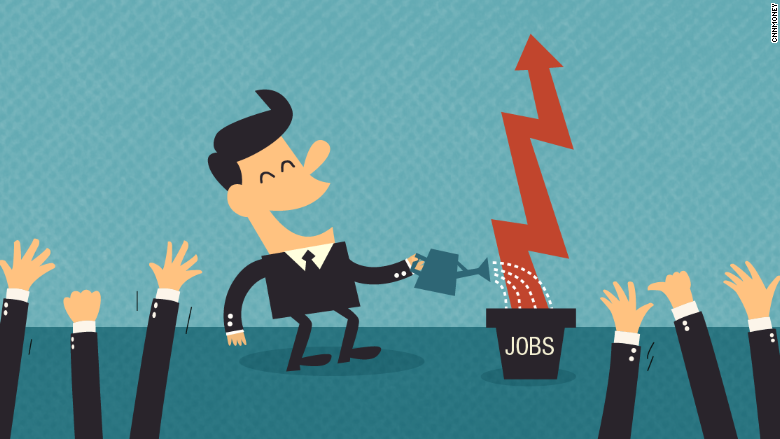 America's job market keeps picking up momentum.
The number of people who filed for unemployment claims last week hit a 42-year low. There were 247,000 claims -- the lowest level since November 1973, the Labor Department reported.
"The job market remains in very good shape," says Gus Faucher, senior economist at PNC Financial.
Overall, the job market is one of the bright spots in the U.S. economy. Just in the past year, unemployment has declined significantly, millions of jobs have been added and some signs of wage growth -- the missing ingredient to the economic recovery -- have started to show up.
The historic news on jobless claims confirms that the U.S. job market is picking up steam. Jobless claims have been below 300,000 for 59 consecutive weeks, the longest streak since 1973.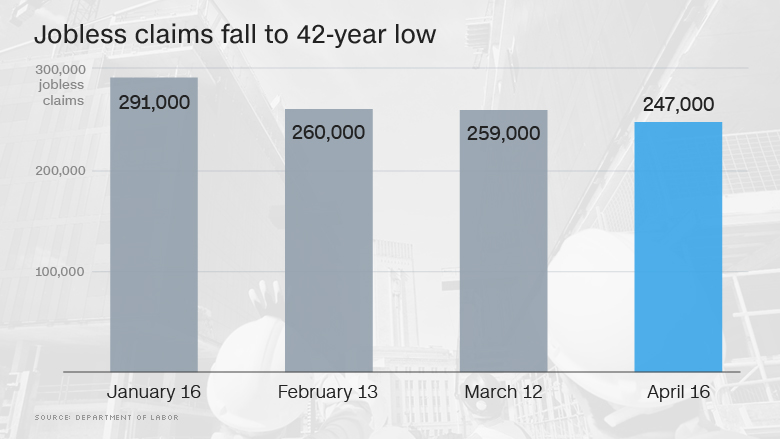 Related: Americans grade the economy a 'C'
There's more good news. The number of people either working or looking for a job -- the participation rate -- has been rising since September. That's a sign that more Americans who were on the sidelines, not applying for jobs, are getting back in the game.
The hope is that if unemployment claims decline further, employers will have fewer candidates to choose from and will have to raise wages to recruit or retain employees. Wage growth has been next to nothing during the recovery from the recession -- a big reason why many Americans aren't hot about the economy right now.