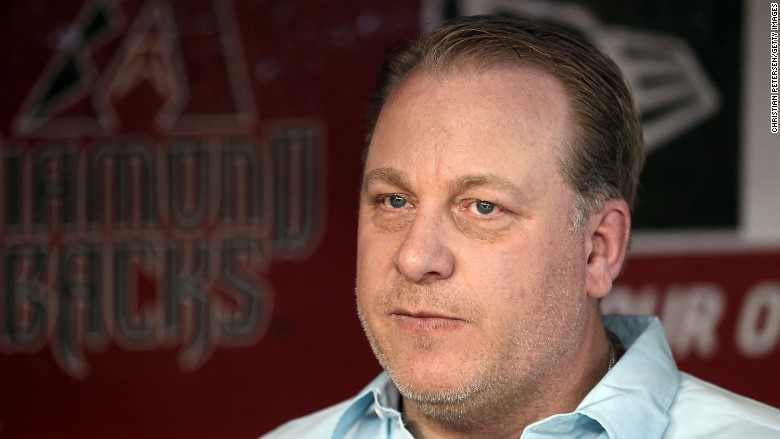 "I'm not transphobic. I'm not homophobic."
That's how former ESPN Major League Baseball analyst Curt Schilling defended himself on Friday during an interview on SiriusXM radio.
Schilling was fired from ESPN on Wednesday after he shared an anti-transgender post on Facebook.
Schilling, who started at the network in 2010, said ESPN was "a company where the rules are different based completely and solely on your perspective and your belief."
He also said he has "never" treated someone differently based on their race, religion or sexual preference.
"I don't care! I've never cared. As long as you're not sleeping with my wife, I don't care who you sleep with," Schilling said.
Related: Tracy Morgan is latest to cancel show over 'anti-LGBT' law
When ESPN announced that it had let Schilling go, the network said it is "an inclusive company" and that Schilling's "conduct was unacceptable."
Schilling's post caused an uproar on social media. The post, which has since been deleted, showed a man in ripped women's clothes with the caption: "Let him in to the restroom with your daughter or else you're a narrow minded, judgmental, unloving, racist bigot who needs to die!"
In a Tuesday blog post called "The hunt to be offended...," Schilling said the "latest brew ha ha is beyond hilarious."
He said he "didn't post that ugly looking picture" and had only "made a comment about the basic functionality of mens and womens restrooms, period."
Related: Curt Schilling's political donation came with comments on ESPN job
This isn't the first time the former Red Sox pitcher's comments have gotten him into trouble.
In March, Schilling said Democratic presidential candidate Hillary Clinton should be "buried under a jail."
He was suspended in August for posting a meme comparing Muslims to Nazis -- that suspension ended up lasting for the entire MLB season.
Related: What you need to know about the clash over 'anti-gay' bills
During the interview with SiriusXM, Schilling said that his 16-year-old son had helped found an LGBT club at his high school.
"That's his group, that's the people he loves and hangs out with," Schilling said. "Those kids are in and out of this house all the time."
He also called out singer Bruce Springsteen, who canceled a show in North Carolina to protest its anti-LGBT law that requires people to use the bathroom that corresponds with the gender on their birth certificate.
"Bruce Springsteen, this guy's a hero for some reason, right?" Schilling said. "Is he gonna cancel all of his concerts forever in Italy where same-sex marriage is against the law? Or in the Middle East, where they behead and execute people that aren't heterosexual? ... Or is this just a stance of convenience?"