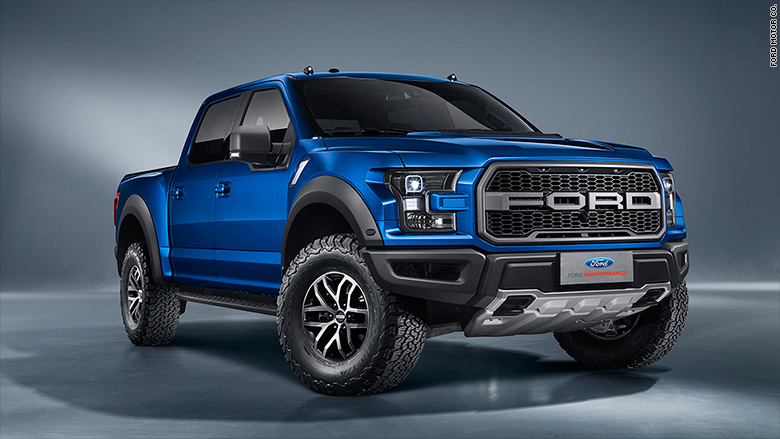 Ford Motor Co. is bringing its high-performance off-roader, the F-150 Raptor, to China.
Starting next year, Ford will sell a redesigned version of the Raptor pickup in China, the company announced Friday.
It will become the first version of Ford's full-sized truck-- the most popular passenger vehicle in the United States -- to be available in China.
The new Raptor is powered by a turbocharged 3.5-liter V6 engine that produces more than 411 horsepower. It is a high-performance version of the F-150 pickup. It's modeled after desert racing trucks.
"By introducing it to the world's largest auto market, we hope to inspire a new generation of off-road enthusiasts, and demonstrate how we are always bringing our customers new innovations," John Lawler, chairman and CEO, Ford Motor China said in a statement.
The all-wheel-drive Raptor will have a 10-speed automatic transmission that was developed jointly by Ford (F) and General Motors (GM). It will have various "driving modes" -- including high- and low-speed off-road, high-performance street-driving, and "normal" for everyday use.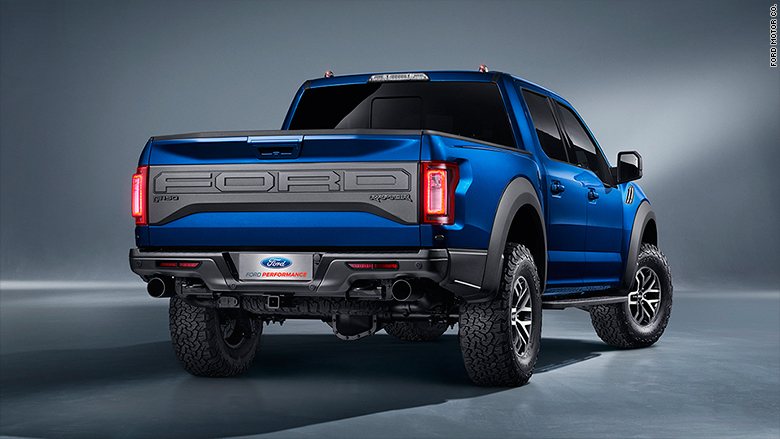 The 2017 Raptor is based on Ford's new aluminum-bodied F-150 that first went on sale in 2015. A previous version of the Raptor, based on the steel-bodied last-generation truck, had a 411-horsepower V8 engine and a six-speed transmission. That version went out of production when the new F-150 came out.
Related - Aluminum Ford F-150 aces crash test
The new Raptor will have some slight changes for the Chinese market, including roof lights that are required by Chinese regulators on larger vehicles.
The trucks will be built in Ford's Dearborn Truck Plant near the company's headquarters outside of Detroit. China places very high taxes and fees on imported motor vehicles, so a U.S.-made Raptor could be expected to cost much more in China than it will in the United States. Prices for the last-generation Raptor started at just under $50,000 in the U.S.
The Raptor is expected to appeal to image-conscious Chinese customers looking for something that will really, really stand out in traffic, said Joe Hinrichs, Ford's president of the Americas. There is some familiarity with the Raptor there, he said.
"The Chinese have access, through the Internet, to knowledge of what's sold around the world," he said.
The new Raptor will be available in the United States this fall.