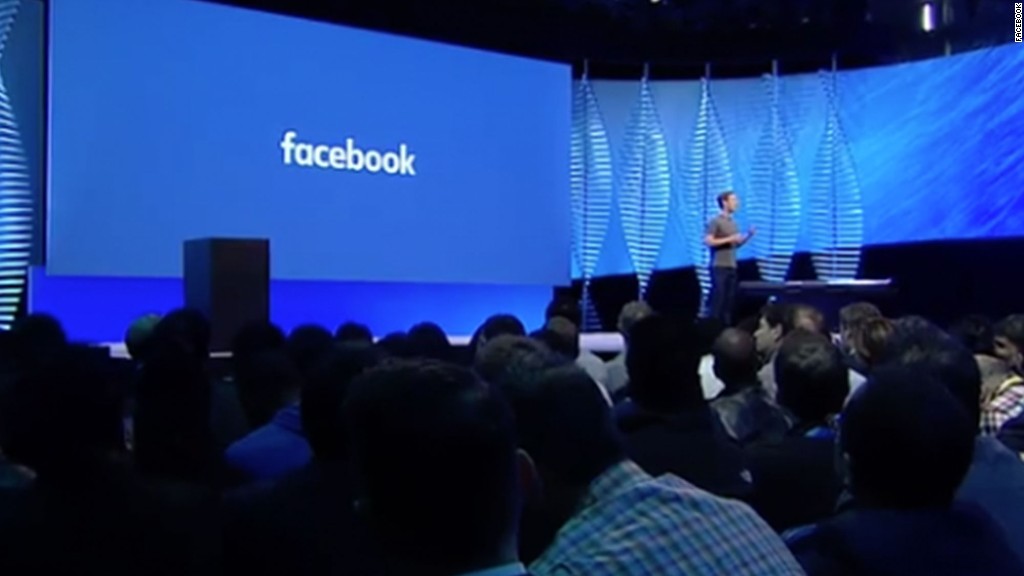 A couple of friends living thousands of miles apart sit alone in their homes, strap goggles to their heads, and transport to Paris or Mars. They hang out in a shared space, read each other's body language and maybe share a high-five, just like they would in the real world.
This is Facebook's vision for the future. Well, one of them.
CEO Mark Zuckerberg has been pushing his ambitious 10-year plan. The company that's known for viral articles and baby photos wants to bring Internet to billions of people with antennas, drones and lasers. It's developing artificial intelligence and virtual reality headsets for the future of computing.
At first, it sounds like Facebook (FB) is taking a page out of Alphabet's (GOOGL) playbook, investing in futuristic visions, a.k.a. moonshots, because it can. Like Google's parent company, Facebook's core business is advertising. Both have enough money to snatch up top researchers and invest in eccentric ideas.
Facebook even poached one of Google's top innovation execs, former DARPA director Regina Dugan, to lead a new hardware R&D department called Building 8. Facebook hasn't said exactly what Dugan will be doing yet. CTO Mike Schroepfer would only say that she'll be helping the company fill in the pieces of its 10-year mission.
But so far, Facebook has been careful to focus its approach on ideas that it thinks will directly impact its main product eventually.
"We're not doing random things, they're very in line with the clear 10-year vision Mark set," said Schroepfer, after Zuckerberg presented his plans on stage at the F8 conference in San Francisco. "These aren't side projects, we are shipping."
Related: Mark Zuckerberg talks drones, bots -- and takes a jab at Trump
Alphabet has pursued a much larger number of futuristic ideas, many of which can come off like a lark. It's waded into driverless cars, drone deliveries, humanoid robots, and forestalling the ravages of age.
The moonshots have become a pain point to the company. Many projects have no clear path to immediately marketable products. The company has run into issues with Nest, the connected thermostat company it bought in 2014. Nest hasn't released a major new product since the acquisition, it recently angered customers by disabling an older smart home device, and its internal squabbles are becoming public.
It's not the only department with issues. There are reports that Alphabet is trying to sell off its robotics unit, and its life sciences company, Verily, has reportedly lost many of its top researchers.
On Thursday, Alphabet announced it lost $802 million on these "other bets" in the first quarter of 2016.
Related: Facebook built a giant Internet drone
While they sound equally sci-fi, Facebook insists its long-term projects serve a very specific purpose: to connect the world to the Internet, and to Facebook.
It won't say exactly how much money it's putting into them. Oculus is likely the largest investment with the most staffers. Facebook acquired the company for $2 billion two years ago, and it's already shipping a consumer product.
Oculus is aimed at gamers for now, but Facebook is planning ahead for when socializing jumps from the News Feed to virtual reality. Facebook wants to make sure VR is primed for genuine human interaction, but first it needs to figure out what that means.
"The things that are memorable tend to be emotional moments in your life," said Schroepfer. "They can be tough moments or they can be happy moments. Those emotions come from dealing with other people."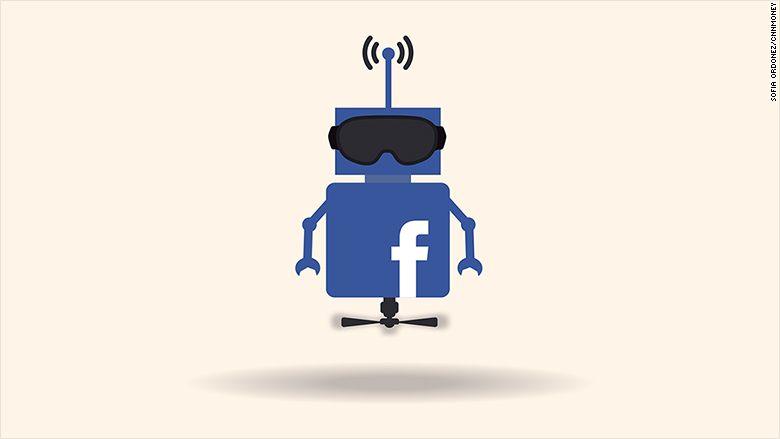 Even research that's just beginning -- like that into artificial intelligence -- has already started changing current products like the new Messenger Bots and a product for reading images to the blind.
Facebook is also attempting to open source many of its innovations so that it doesn't get mired in costly side businesses.
It just announced two new antenna technologies it has designed. Terragraph is meant to bring gigabyte internet to dense urban areas, and Aries is a base station with 96 antennas to reach more distant areas.
Related: Hello bot: Messenger wants to become your one-stop shop
Facebook has no intention of becoming a massive antenna manufacturer. As with many of its current projects, it will either work directly with local governments or telecom companies, or make them open source.
"The goal isn't for us to run these networks, the goal is for us to try to do some of the advanced R&D, to build new technology, but then we share it with operators," said Schroepfer. "I think that's a lot more effective."