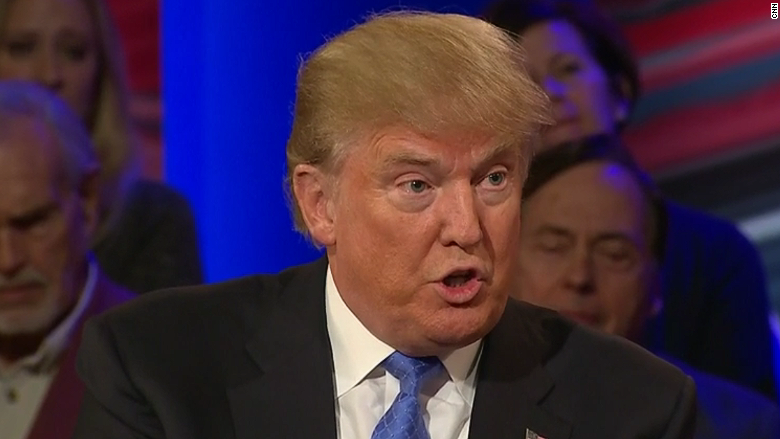 A long simmering feud between two powerful Hispanic business lobbies has finally boiled over, sparked by a division over Donald Trump.
On Friday, the U.S. Hispanic Chamber of Commerce terminated the membership of its New York state chapter.
"The board discussed it and ultimately decided that it wasn't a good fit," USHCC President Javier Palomarez told CNNMoney. "According to our bylaws we have the capability of accepting or not accepting our members. We have over 200 member associations across the country and sometimes it's a fit and sometimes it's not. In this case it's not and we wish them the best."
Related: America is missing out on a $1.4 trillion Latino business opportunity
New York State Coalition of Hispanic Chambers of Commerce chairman Frank Garcia said in a press release that his group was voted out as punishment.
The group was vocal about its opposition to a meeting Palomarez had with Donald Trump in New York City and to plans the USHCC had to invite Trump -- who has disparaged the Latino community numerous times -- to participate in a candidate's forum in DC.
"I am being punished for fulfilling my role to speak up for the hundreds of thousands across the country who refuse to provide a platform for Trump's hate-filled rhetoric," Garcia said.
Palomarez rejected Garcia's assertions.
"There were a number of individuals that made their sentiments apparent to us but it's unequivocally inaccurate to say we are punishing New York," he said.
Related: Why so few Latino-owned businesses get venture capital funding
The dispute between the USHCC and the New York chamber surfaced in the national press last year, after BuzzFeed posted video of a testy interaction between Garcia and Palomarez over Trump.
During this election USHCC has hosted all the presidential candidates from both the Democrat and Republican parties, Palomarez said. The Trump forum wasn't a one-off event.
"We're the only association in America that has hosted every single candidate," Palomarez said.
Ultimately, Trump canceled his appearance and his forum never took place.
But friction between the USHCC and the New York chamber predates the Trump controversy. It goes back years -- before the current New York leadership took power.
Related: This startup helps Latino businesses get funding
The bad blood, said Angelo Falcón, president of the New York-based National Institute for Latino Policy, stems from the feeling in New York that the USHCC has neglected its member-base of small businesses and become too corporate.
"Frank Garcia and the folks in NY feel that the national chamber has been unresponsive to the local business needs," Falcón said.
Whether or not USHCC is too corporate, Falcón says that, overall, Palomarez has been very effective in solidifying the national chamber but that it's been at the expense of the base.
There are criticisms about the New York chamber, too.
"The New York Chamber has been unstable for some time," Falcón said. "Even though NYC has one of the largest Latino populations, its business formation is not at the same level as places like Los Angeles, or Miami," he said. "If you had a strong business sector then you could argue that there would be a stronger chamber, but that's not the case in New York."
The disagreement seems to speak to a popular criticism of the Latino community: that it lacks cohesion.
"This does not have anything to do with Latino unity," said Palomarez. "We just finished the most effective legislative summit in Washington." he said. "We just hosted leaders from the likes of Mitch Mcconnell all the way to Debbie Wasserman Schultz."
Falcón too, warns against the knee-jerk reaction of assuming this is an example of a lack of unity among Latinos.
"The tendency is to make these generalizations of Latinos as a bucket of crabs, like we're always clawing at each other," he said. "But the important thing is to determine if the disagreements are valid or not."
Related: Is Julian Castro the Great Latino Hope of America?
Falcón says that as opposed to the Latino community, in the white community these disagreements don't get "racialized."
"It's not our 'hot bloodedness.' It's that there are real issues and that Latino organizations are fragile," he said. "Latino non-profit organizations are only getting 1% of foundation funding, for example, despite being 18 percent of the U.S. population," he said.
"You might have a Puerto Rican group vying for the same government money as a Mexican group. It's not about being Latino. The fights usually have to do with questions of limited resources."