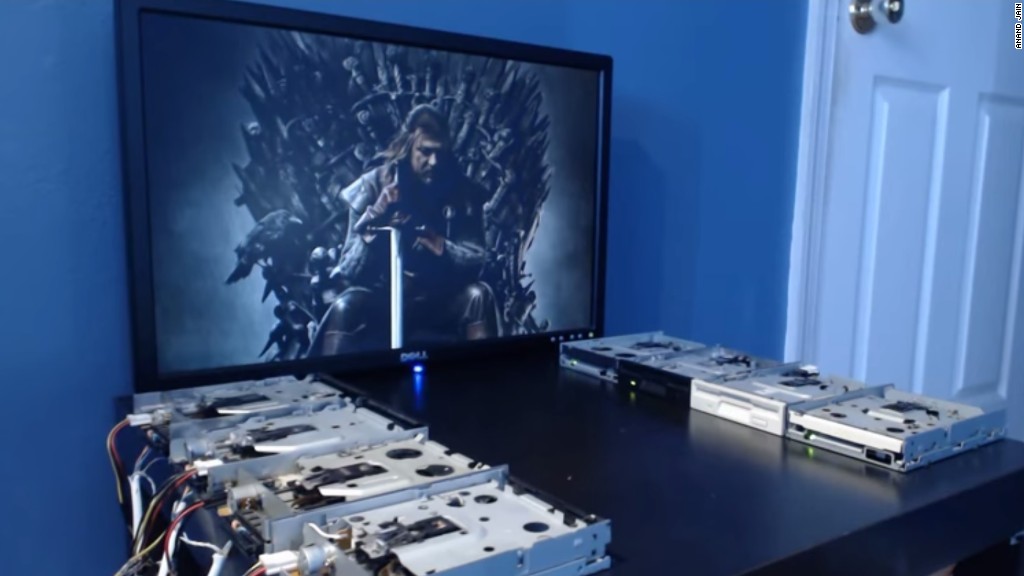 Disclaimer: The following post includes spoilers from the season six premiere of HBO's "Game of Thrones."
In the last year, I've packed into sports bars to watch the New York Mets in the World Series, the Syracuse Orange in the Final Four and to watch "Game of Thrones."
HBO premiered the first episode to the sixth season of "Game of Thrones" on Sunday night. Many viewers tuned into the premiere to find out the fate of Jon Snow, who was apparently stabbed to death at the end of last season.
Some of those viewers watched via viewing parties like the one at Professor Thom's in lower Manhattan. I, along with hundreds of fans, packed into the sports bar to see if Snow would return to the world of Westeros. Unfortunately for fans, that question is still left unanswered.
Snow stayed a corpse in the episode and the big reveal was saved for the Red Woman, Melisandre, who is apparently much older than she appears.
Fans have debated Snow's demise since last summer, when the hero appeared to be murdered by his own men. Would he be brought back to life?
The theory, which was even brought up by President Obama, was ultimately shot down by "Thrones" executive producers David Benioff and D.B. Weiss.
For now, Snow is still dead, but that didn't damper the spirits of those in attendance.
Viewing "Thrones" at a sports bar may seem odd, but it makes sense.
The shocking twists and even more shocking deaths of the series have made it a spectacle much like any sporting event that has to be watched live. If not, you could run the risk of spoilers.
On Sunday, the atmosphere at Professor Thom's mimicked one of a championship game. The horde of fans -- some of whom were dressed in the costumes and colors of their favorite "Thrones" houses -- drank, gasped and cheered at the events of the episode.
The bar even served specialty cocktails based on the show called "The White Walker" and "The Westerosa."
"When you're a fan of something that's really geeky and you like to nerd out, the only thing better than nerding out is nerding out with other nerds," said Christine Marquet, 29, a sales associate dressed as Daenerys Targaryen.
That's the allure of watching a show like this at a viewing party. It builds a community at a time when television is becoming more fragmented and delayed viewing is becoming more prominent.
For fans like Juliana Shadlen, 28, who was also dressed as Daenerys, coming to the viewing party allowed her to watch it away from her computer.
"They play it on a really big TV and I don't have cable," said Shadlen. "Watching it on the internet isn't quite the same."
Professor Thom's, which has hosted a viewing party since the first season, is not alone. Bars across the country also hold viewing parties -- some even post reaction videos which go viral on YouTube.
HBO, which like CNN is owned by Time Warner (TWX), has actually clamped down on certain bars that show the series.
"Some bars look at it as a massive revenue opportunity which I think is HBO's main concern, but that's not what it's about for us," said Peter Levin, owner of Professor Thom's. "We're as big of fans as everyone else."
The season six premiere comes at a challenging time for HBO as it searches for the next big drama to take the proverbial throne.
The HBO series "Vinyl" has had a lackluster reaction from audiences and critics while the upcoming "Westworld" has had delays in production.
Benioff and Weiss have said they are currently "writing the final act" of the show, but for now there are the dragons and deaths of "Thrones."
Related: 'Game of Thrones' trailer begins with the end of Jon Snow
And for fans there's still places like Professor Thom's, which actually gives out a free shot when a major character dies on the show.
"With this show," Levin said. "It ain't cheap."